Modern Police Systems Demand Motors
19th August 1938
Page 52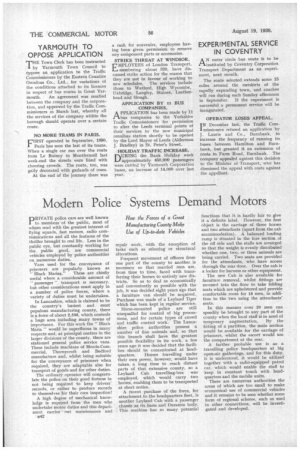 Page 52, 19th August 1938 —
Modern Police Systems Demand Motors
Close
How the Forces of a Great Manufacturing County Make Use of Up-to-date Vehicles PRIVATE police cars are well known to members of the public, most of whom read with the greatest interest of flying squads, fast motors, radio communications and all the features of the thriller brought to real life. Less in the public eye, but constantly working for the public good, are commercial vehicles employed by police authorities on numerous duties.
Vans used for the conveyance of prisoners are popularly known as " Black Marina." These are chiefly useful where a considerable amount of " passenger" transport is necessary, but other considerations must apply in a number of police forces, where a variety of duties must be undertaken.
In Lancashire, which is claimed to be the country's busiest and most populous manufacturing county, there is a force of about 2,500, which controls a huge area including many towns of importance. For this work the "Black Maria" would be superfluous in many respects and, at principal centres in the larger divisions of the county, there are stationed general police service vans. These include machines of Morris-Commercial, Thornycroft and Bedford manufacture and, whilst being suitable for the conveyance of prisoners when required, they are adaptable also for transport of goods and for other duties.
The ordinary operator will congratulate the police on their good fortune in not being required to keep drivers' records, or rather to produce records to themselves for their own inspection!
A high degree of mechanical knowledge is required from the men who undertake motor duties and this department carries out maintenance and s42 repair work, with the exception of tasks such as reboring or structural alterations.
Frequent movement of officers from one part of the county to another, is necessary so that married men are, from time to time, faced with transferring their homes to entirely new districts. So as to deal as economically and conveniently as possible with the job, it was decided eight years ago that a furniture van should be acquired.. Purchase was made of a Leyland Tiger which has been kept in regular service.
Horse-mounted police are still unequalled for control of big processions, and for certain types of crowd and traffic control work. The Lancashire police authorities possess a number of fine animals and, so that this branch shall have the greatest possible flexibility in its work, a few years ago it was decided that the facilities should be concentrated at head quarters. Horses travelling under their own power, however, would have taken a long time to reach distant parts of that extensive county, so a Leyland Cub travelling-box was employed, which would carry two horses, enabling them to be transported at short notice.
A recent purchase of the force, for attachment to the headquarters fleet, is another Leyland Cub with a passenger chassis as its basis and Duramin body. This machine has so many potential functions that it is hardly fair to give it a definite label. However, the first object is the carriage of three horses and two attendants (apart from the cab accommodation). A balanced loading ramp is situated in the fore section of the off side and the stalls are arranged so that the weight is evenly distributed whether one, two, or three animals are being carried. Two seats are provided for the attendants, who have access through the rear door. Over the cab is a locker for harness or other equipment.
The new Cub is also available for furniture removal, whilst fittings are recessed into the floor to take folding seats which are upholstered and provide comfortable room for 18 men, in addition to the two using the attendants' seats.
In this manner over 20 men can speedily be brought to any part of the county when the local staff is in need of temporary augmentation. By the fitting of a partition, the main section would be available for the carriageof prisoners, whilst the escort would use the compartment at the rear.
A further probable use is as a travelling police headquarters at big open-air gatherings, and for this duty, it is understood, it would be utilized together with a radio-equipped patrol car, which would enable the staff to keep in constant touch with headquarters and the mobile units.
There are numerous authorities the areas of which are too small to make economical use of commercial vehicles and it remains to be seen whether sonic form of regional scheme, such as used in other connections, will be investigated and developed.