Out and Home.—By " The Extractor."
18th March 1909
Page 7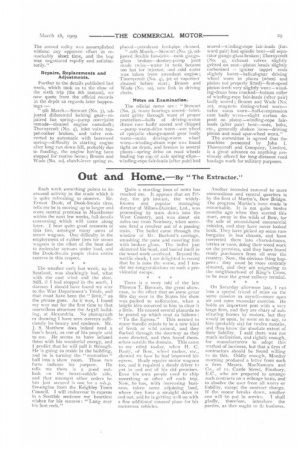 Page 7, 18th March 1909 —
Out and Home.—By " The Extractor."
Close
Each week something points to increased activity in the trade which it is quite refreshing to observe. Mr. Ernest Dook, of Dook-Swain tires, tells me he is moving up to larger and more central premises in Manchester within the next few weeks, full details concerning which will come along Later. I hear quite good accounts of this tire, amongst many users of steam wagons. One difficulty in the employment of rubber tires for steam wagons is the effect of the heat due to molecular stresses under load, and the Dock-Swain people claim entire success in this respect.
The weather early last week, up in Scotland, was shockingly bad, what with the east wind and the sleet. Still, if I had stopped in the south, I daresay I should have found my way to the War Department's Trials, and that must have been the " limit," as the phrase goes. As it was, I found my way out for the first time to that marvellous structure the Argyll building, at Alexandria. No photograph or drawing I have seen conveys sufficiently its beauty and opulence. Mr. J. S. Matthew does indeed need a lion's heart, as one of his people said to me. Ile seems to have infused them with his wonderful energy, and I predict that he will pull it through. He is going to reside in the building, and he is turning the " recreation " hall into a show room. These two facts indicate his purpose. He tells me there is a good outlook on the heavy-vehicle side, and that amongst other orders he has just secured is one for a ;oh.p. fire-engine from the Keighley Town Council. I will endeavour to express in a Scottish sentence my heartiest wishes for his success : " Lang mav his lum reek." Quite a startling item of news has reached me. It appears that on Friday, the 5th inst.-ant, the widelyknown and popular managing director of Milnes-Daimler, Ltd., was proceeding by train down into the West Country, and was about six miles out from Newbury, when someone fired a revolver out of a passing train. The bullet came through the window of Mr. Burford's carriage, smashing the pane and covering him with broken glass. The bullet just skimmed his head, and buried itself in the wood work overhead. Beyond the terrific shock, I am delighted to record that he is none the worse, and I tender my congratulations on such a providential escape.
There is a story told of the late Phineas T. Barnum, the great showman, to the effect that on some great fête day over in the States his show was packed to suffocation, when a bright idea occurred to him to clear it a little. He caused several placards to be posted up which read as follows : " To the Egress." This seemed to many bucolic minds to be a new kind of freak or wild animal, and they flocked through the doorway as they were directed, and then found themselves outside the domain. This came to my mind to-day, when H. C. 'Rattly, of Bow, wheel maker, etc., showed me how he had improved his egress. Bauly repairs motor wagons too, and it required a dandy driver to get in and out of his old premises. Even his own people used to chip something or other off each trip. Now, he has, with increasing business, taken some adjoining land, where they have a straight drive in and out, and he is getting well on with a fine additional covered place for his numerous vehicles.
Another intended removal to more commodious and central quarters is by the firm of Martin's, Bow Bridge. The progress Martin's have made is remarkable. It is not quite twelve months ago when they started this mart, away in the wilds of Bow, for the sale of second-hand commercial vehicles, and they have never looked back. They have picked up some rare bargains in bus chassis, and have converted them into chars4-bancs, lorries or vans, doing their wood work on the premises, and they have found ready purchasers from all over the country. Now, the obvious thing happens : they must be more centrally situated, and they are migrating to the neighbourhood of King's Cross, to be near the great railway termini.
On Saturday afternoon last, I ran into a special friend of mine on the same mission as myself—more open air and some muscular exercise. He holds an important post with a very large firm, and they are chary of substituting horses by motors, but they would be open, he went on to say, to hire (probably six) for twelve months, and thus know the absolute extent of their liability. I said there was not much inclination, and rightly enough, for manufacturers to adopt this method of business, but that a firm of contractors should be found willing to do this. Oddly enough, Monday morning produced a letter from such a firm. Messrs. MacNamara and Co., of 12, Castle Street, Finsbury, EC., who are prepared to arrange such contracts on a mileage basis, and to absolve the user from all worry or liability, except the contract charge. If the motor breaks down, another
one will be put in service. I shall gladly, therefore, introduce the parties, as they ought to do business.