The Supply Department.
18th March 1909
Page 23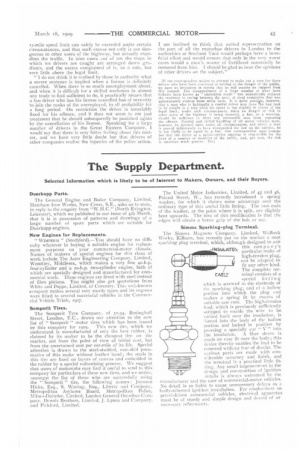 Page 23, 18th March 1909 —
The Supply Department.
Close
Selected Information which is likely to be of Interest to Makers, Owners, and their Buyers.
Duerkopp Parts.
The General Engine and Boiler Company, Limited, Hatcham Iron Wcrrks, New cross, S.E., asks us to state, in reply to the enquiry from "W.H.C." (North Evington, Leicester), which we published in our issue of 4th March, that it is in possession of patterns and drawings of a large number of spare parts which are suitable for Duerkopp engines.
New Engines Tor Replacements.
" WINIPERIS " (Stechford).—You should have no difficulty whatever in buying a suitable engine for replacement purposes on your commercial-motor chassis. Names of makers of special engines for this class of work include The Aster Engineering Company, Limited, Wembley, Middlesex, which makes a very fine 40-h.p. four-cylinder and a 20-h.p. two-cylinder engine, both of which are specially designed and manufactured for commercial work. These engines are fitted with steel instead of fibre pinions. You might also get quotations frem White and Poppe, Limited, of Coventry. This weli-known cempany makes several very sturdy types and its engines were fitted to several successful vehicles in the Commercial Vehicle Trials, 1907.
Semperit Tires.
The Semperit Tyre Company, of 31-34, Basinghall Street, London, E.C., draws our attention to the new list of " Semperit " motor tires which has been issued
by this company for 1909. This new tire, which we understand is manufactured of only the hest rubber, is claimed by its maker to be the cheapest tire on the market, not from the point of view of initial cost, but from the ascertained oast per car-mile of its life. Special attention is drawn to the steel-studded, non-skid pneumatics of this make without leather band ; the studs in this tire are fixed on layers of canvas and embedded in the rubber by a special vulcanising process. We suggest that users of motorcabs may find it useful to send to this company for particulars of these new tires, and we notice, amongst the list of those who are successfully using the " Semperit " tire, the following names : -Joynson Hicks, Esq., S. Waring, Esq., Liberty and Company, Metropolitan Asylums Board, Metropolitan Police, Mines-Daimler, Limited, London General Omnibus Company, Dennis Brothers, Limited, J. Lyons and Company, and Pickford, Limited,
The United Motor Industries, Limited, of 45 and 46, Poland Street, W., has recently introduced a spring washer, for which it claims some advantage over the ordinary type of this useful little fitting. The two ends of the washer, at the point where it is split, are slightly bent upwards. The idea of this modification is that the edges will obtain a better grip of the bolt or nut.
Simms Sparking -plug Terminal.
The Simms Magneto Company, Limited, WeIbeck 1N,. ork!i, Kilburn, has recently put on the market a neat sparking plug terminal, which, although designed to suit this corn pan y's particular make of high-tension plug, cart be adapted to fit any other kind: The complete terminal consists of a
I NSULATOS CABLE special ti tting which is screwed to the electrode of thc sparking plug, and of a hollow portion into which the plug end makes a spring fit by means of suitable saw cuts. The high-tension lead, which is previously sufficiently stripped to enable the wire to be turned back over the insulation, is forced into the body of the hollow portion and locked in position by pressing a specially cut " V " into
the insulation. A fibre sleeve is made an easy fit over the body; this device thereby enables the lead to he removed without fear of shocks. The various parts are made with consderabie accuracy and finish, and the terminal is a practical little fitting. Any small improvement in the design and construction of ignition details is always welcomed by the manufacturer and the user of commercial-motor vehicles. No detail is so liable to cause unnecessary delays as a badly-schemed ignition installation. For et/mica-mem on petrol-driven commercial vehicles, electrical apparatus must be of sturdy and simple design and devoid of ur nece,:sarv refinements.