Opinions from Others.
18th March 1909
Page 20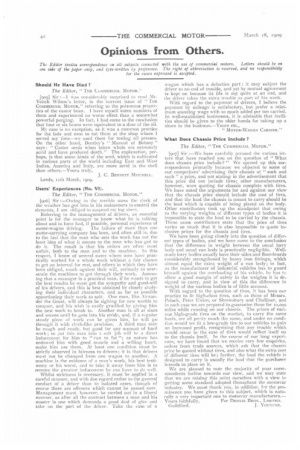 Page 20, 18th March 1909 —
Opinions from Others.
Close
The Editor invites correspondence on all subjects connected with the use of commercial motors. Letters should be on one side of the paper only, and tyPe-written by preference. The right of abbreviation is reserved, and no responsibility for the views expressed is accepted.
Should He Have Died ?
The Editor, "THE CuMMERCIAL MOTOR."
[905] Sir :—I was considerably surprised to read Mr. Veitch Wilson's letter, in the current issue of "Tau COMMERCIAL MOTOR," referring to the poisonous properties of the castor bean. I have myself eaten numbers of them and experienced no worse effect than a somewhat powerful purging. In fact, I had come to the conclusion that four or six beans were equivalent to a dose of the oil.
My case is no exception, as it was a common practice for the lads and men to eat them at the shop where I served my time—we used them for testing oil presses. On the other hand, Bentley's " Manual of Botany " says : " Castor seeds when taken whole are extremely acrid and have produced death." The explanation, perhaps, is that some kinds of the seed, which is cultivated in various parts of the world including East and West Indies, America and Italy, are more acrid in the shell than others.—Yours truly, J. C. BENNETT MITCI1ELL.
Leeds, iith March, 1909.
Users Experiences (No. VI).
. The Editor, "THE COMMERCIAL MOTOR."
[906] Sir :—Owing to the terrible mess the clerk of the weather has got into in his endeavours to control the elements, I am obliged to suspend my log sheet. Referring to the management of drivers, an essential point is for the manager to know what he is talking about and to have had, if possible, personal experience of motor-wagon driving. The failure of more than one motor-carrying company has been, and often still is, due to the fact that the man who sets the work has not the least idea of what it means to the man who has got to do it. The result is that his orders are often most unfair, both to the man and to the machine. In this respect, I know of several cases where men have practically worked for a whole week without a fair chance to get an interval for rest, and others in which they have been obliged, much against their will, seriously to overstrain the machines to get through their work. Assuming that a manager is a practical man, if he wants to get the best results he must get the sympathy and good-will of his drivers, and this is best obtained by closely studying their individual characters, and as far as possible apportioning their work to suit. One man, like Alexander the Great, will always be sighing for new worlds to conquer, and his wish is easily gratified by giving him the new work to break in. Another man is all at sixes and sevens until he gets into his stride, and, if a regular steady piece of work can be given him, he will go through it with clock-like precision. A third man may be rough and ready, but good for any amount of hard work ; to put this man into a soft job will be a direct inducement for him to " run to fat "; as nature has endowed him with good muscle and a willing heart, make him use them. At least one condition must be strictly observed in fairness to drivers; it is that drivers must not be changed from one wagon to another. A machine is the evidence of a man's work, his best testimony or his worst, and to take it away from him is to remove the greatest inducement he can have to do yell.
Whilst strictness is necessary, it must be applied in a careful manner, and with due regard rather to the general conduct of a driver than to isolated cases, though of course there are offences which cannot be passed over. Management must, however, be carried out in a liberal manner, as after all the contract between a man and his master is one which demands a good deal of give and take on the part of the driver. Take the case of a wagon which has a defective part : it may subject the driver to no end of trouble, and yet by mutual agreement is kept on because its life is not quite at an end, and the driver takes the extra trouble as part of his work.
With regard to the payment of drivers, I believe the payment by mileage is satisfactory, but prefer a minimum standing wage with so much added per ton carried. In well-established businesses, it is advisable that facilities should be given to the older hands for taking up a share in the business.—Yours etc., "MOTOR-WAGON CARRIER."
What Does Chassis Price Include
The Editor, " THE COMMERCIAL MOTOR."
[907] Sir :—We have carefully perused the various letters that have reached you on the question of "What does chassis price include?" We opened up this correspondence primarily because we objected to some of our competitors' advertising their chassis at "such and such " a price, and not stating in the advertisement that this price did not include tires; other manufacturers, however, were quoting for chassis complete with tires. We have noted the arguments for and against our view that the chassis price should include the cost of tires, and that the load the chassis is meant to carry should be the load which is capable of being placed on the body. Other contributors took up the standpoint that owing to the varying weights of different types of bodies it is impossible to state the load to be carried by the chassis. These same contributors state that the price of tires varies so much that it is also impossible to quote inclusive prices for the chassis and tires.
We have been going closely into the question of different types of bodies, and we have come to the conclusion that the difference in weight between the usual lorry body and usual van body is practically negligible. Wellmade lorry bodies usually have their sides and floor-boards considerably strengthened by heavy iron fittings, which almost equal the extra weight of a van body; in fact, as the manufacturer of industrial vehicles has to guard himself against the overloading of his vehicle, he has to allow a good margin of safety in the weights it is designed to carry, and in view of this the difference in weight of the various bodies is of little account.
With regard to the question of tires, it has been our practice to fit high-class tires, such as those of Messrs. Polack, Peter Union, or Shrewsbury and Challiner, and in each case we are prepared to guarantee these for ro,000 miles while running on our chassis. The prices of various high-grade tires on the market, to carry the same loads, are all pretty much the same, and under no condition would we fit a low-grade tire to our vehicles to gain an increased profit, recognising that any trouble which would occur in the case of tires would reflect itself on to the chassis itself. In the course of our long experience, we have found that we receive very few enquiries, unless from trade sources, which ask that the chassis price be quoted without tires, and also what the extra cost of different tires will be ; further, the load the vehicle is designed to carry is usually the load that the purchaser intends to place on it.
We are pleased to note the majority of your correspondents incline towards our view, and we may state that we are raising this point ourselves with a view to getting some standard adopted throughout the motorcar industry. We must thank you, in addition, for the prominence you have given to this subject, which is naturally a very important one to motorcar manufacturers.—
Yours faithfully, For DENNIS BROS., ImarrEn. Guildford. J. YouNc.En.