Transport by Tractor.
18th March 1909
Page 1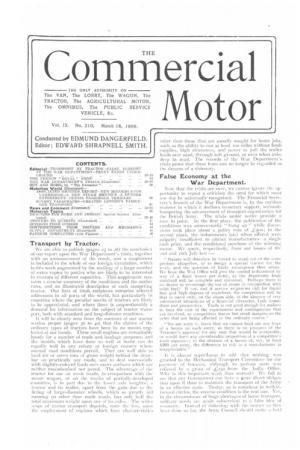 Page 2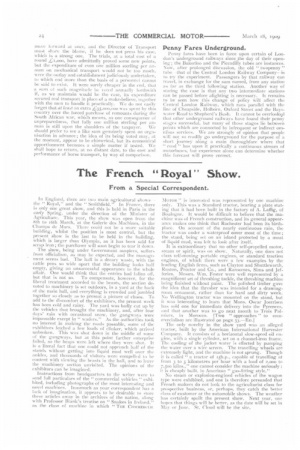 Page 1, 18th March 1909 —
Transport by Tractor.
Close
Wo are able to publish (pages 25 to 28) the conclusion of our report. upon the War Department's trials, together with an announcement of the result, and a supplement is included in the whole of our foreign circulation, which is this week augmented by the mailing of a large number of extra copies to parties who are likely to be interested in tractors of different capacities. This supplement contains a concise summary of the conditions and the earlier runs, and an illustrated description of each competing tractor. Our lists of fresh recipients comprise selected addressees in all parts of the world, but particularly in countries where the peculiar merits of tractors are likely to be appreciated, and where there is unquestionably a demand for information on the subject of tractor transport, both with standard and long-distance machines.
It will be clearly seen from the contents of Our tractor section proper (pages 36 to ,tia) that the claims of the ordinary types of tractors have been by no means neglected at our hands. These small engines are remarkably handy for a number of trade and haulage purposes, and the models which have done so well at home can do equally well in any colony or foreign country where normal road conditions prevail. They are well able to haul six or seven tons of gross weight behind the drawbar on practically any roads, and to deal successfully with slightly-reduced loads over many surfaces which are neither macadamised nor paved. The advantage of the tractor for use on weak roads, in comparison with OW steam wagon, or on the tracks of partially-developed countries, is in lart due to flu: lesser axle weights; it tractor and its trailer, apart from the gain due to the fitting of large-diameter wheels, which so greatly aid running on other than made roads, has only half the foal maximum weight upon any of its axles. The wider smpe of tractor iransport depelubz, none the less. upon the employment of engines which have characterislies other than those that are usually sought for home jobs, such as the ability to run at least too miles without fresh supplies, high clearances, and power to pull the trailer loads over sand, through soft ground, or even when axledeep in mud. The records of the War Department's trials prove that these feats can no longer be regarded as the dreams of a visionary.
False Economy at the War Department.
Now that the trials are over, we cannot ignore Me opportunity to repeat a criticism the need for which roust one day he universally recognised. The Financial Secretary's branch of the War Department is, by the ruthless manner in which it declines monetary support, seriously hampering the advancement of transport organisation for the British Army. The trials under notice provide a case in point. In the first place, the publication of the conditions was unnecessarily " hung up " while discussions took place about a paltry vote of L500: in the second plate, the inducements (sic) when offered were palpably insufficient to attract manufacturers-a single cash prize, and the conditional purchase of the winning motor. We quote, respectively, front our issues of the 2nd and 16th July last :— " Makers will therefore he forced to stand out if the coinpetition altogether, or to design a special ti actor for the work, and the question of likely recompense then arises. We hope the War Office will give the needed inducement by way of a fixed bonus per entry, as the departures from standard will be complete and universal. Perhaps there is no desire to encomage the use of steam in conjunction with solid fuel? If not, and if service exigencies call for liquid fuel and high degrees of superheat, the competition will be that in name only, on the steam side, in the absence of very substantial attractions of a financial character, Loth immediate and prospective. Trade is not good enough for makers to bear the cost of the experiments and contingencies that are involved, as competition leaves hut small margins on the sales that are being effected in the ordinary course."
"We are sorry to learn that we cannot hold out any hope
of a bonus on each entry, as there is no prospect of the Treasury's approval for any sum that would be acceptable, or would form any considerable proportion of a competitor's total expenses; in the absence of a bonus of, say, at least itl800 per entry, the difference in risk to a manufacturer is Mappreciable."
Ii add dint nothing-was
was
Ii add dint nothing-was
was
is almost superfluous to ggranted to the Mechanical Transport Committee for the payment of bonuses, although ifs parlous state was relieved by N ;:2:1":1111: Of taO
from the India Mee.
Wily is this important work thus starved? 11-ry fail to see that any Government can have a wore dire(I obligation upon it than to maintain the iransport of the Army in an effective state. To-day, as is notorious in well-informed circles, the reverse condition is the real one. Vet, in the circumstance of huge shortm2ys of litirse transport, military needs are made subservient to a false idea of economy. Insfead or tinkering with Ow mailer as they have ilone so far, the Army Council should make a hold
move forward at once, and the Director of Transport must share the blame, if he does not press his ci,-i•. which is a strong one. The trials, at a total cost oi round Lt,octo, have admittedly proved some new points, but the expenditure of even one million sterling per annum on nuxthanical transport would not be too much, were the on and establishment judiciously undertaken, to which end more than the basis of a personnel cannot be said to exist. It were surely cheaper in the end, that a sum el such magnitude be void annually forthwith if, as we maintain would be the case, its expenditure secured real transport in place of a make-believe, together with the men to handle it practically. We do not easily farget that at least an extra ..";35,000,000 was spent by this country over the forced purchase of remounts during the South African war, which means, as one consequence of unpreparedness, that fully one million sterling per an num is still upon the shoulders of the taxpayer. We should prefer to see a like sum genuinely spent on organisation in advance; the idea of its being voted may, at the moment, appear to be chimerical, but its economical amortionment becomes a simple matter if tested. We shall hope to return, at no distant date, to the cost and performance of horse transport, by way of comparison. Penny fares have been in force upon certain of London's underground railways since_the day of their opening; the Bakerloo and the Piccadilly tubes are instances. Now, after prolonged discussion, the old " twopenny " tube that of the Central London Railway Company—is to try the experiment. Passengers by that railway can travel, in exchange for the sum named, from any station as far as the third following station. Another way of stating the case is that any two intermediate stations can be passed before alighting is necessary. It remains to be seen how this change of policy will affect the Central London Railway, which runs parallel with the line of Cheapside, Holborn, Oxford Street and the Bayswater Road to Shepherd's Bush. It cannot be overlookq,d that other underground railways have found their penny stages successful, but many of those stages lie between points which are connected by infrequent or indirect omnibus services. lVe are strongly of opinion that people will not so readily go underground for the purpose of a short journey along a main thoroughfare where that " road " has upon it practically a continuous stream of motorbuses, hut experience alone can determine whether ihis forecast will prove correct.