insurance
18th December 1970
Page 76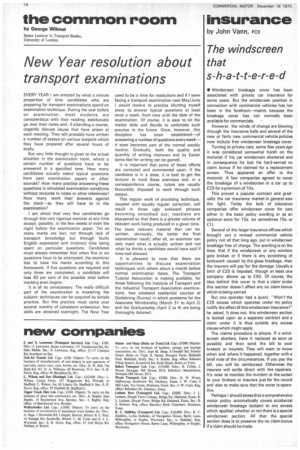 Page 76, 18th December 1970 —
insurance
Close
by John Vann, FCII
The windscreen that s-h-a-t-t-e-r-e-d
• Windscreen breakage cover has been associated with private car insurance for some years. But the windscreen position in connection with commercial vehicles has not been in the forefront—mainly because the breakage cover has not normally been available for commercials. • However, the winds of change are blowing through the insurance halls and several of the new or fairly new commercial vehicle policies now include free windscreen breakage cover.
Turning to private cars, some few years ago it was considered somewhat harsh on the motorist if his car windscreen shattered and in consequence he lost his hard-earned no claim bonus if he claimed for a replacement screen. Thus appeared an offer to the motorist. A few companies agreed to cover the breakage of a windscreen in a car up to £25 for a premium of 10s.
This proved a popular contract and gradually the car insurance market in general saw the light. Today the bulk of insurance companies offer windscreen cover for cars either in the basic policy wording or as an optional extra for 10s. (or sometimes 15s. or £1).
Several of the larger insurance offices which brought out a revised commercial vehicle policy not all that long ago, put in windscreen breakage free of charge. The wording is on the lines that if the windscreen or any window gets broken or if there is any scratching of bodywork caused by the glass breakage, then the insurers will pay for the damage. Usually a limit of £25 is impoSed, though at least one company allows up to £50. Of course, the idea behind this cover is that a claim under this section doesn't affect any no claim bonus which is being earned.
But one operator had a query. "Won't the £25 excess which operates under my policy nullify the effect Of this windscreen insurance?" he asked. It does not, this windscreen section is looked upon as a separate contract and a claim under it is thus outside any excess clause which might apply.
The claims procedure is simple. If a windscreen shatters, have it replaced as soon as possible and then send the bill to yodr brokers or insurers. They will want to know when and where it happened, together with a brief note of the circumstances. If you pay the bill, you will be reimbursed. Otherwise the insurers will settle direct with the repairers. Its wise to mention the incident at the outset to your brokers or insurers just for the record and also to make sure that the cover is operative.
Perhaps I should stress that a comprehensive motor policy automatically covers accidental windscreen breakage (subject to any excess which applies) whether or not there is a special windscreen section. All that the special section does is to preserve the no claim bonus if a claim should be made.