More power and less pollution from dual-fuel diesels
18th December 1970
Page 37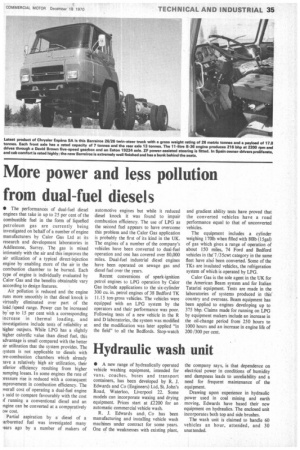 Page 37, 18th December 1970 —
More power and less pollution from dual-fuel diesels
Close
• The performances of dual-fuel diesel engines that take in up to 25 per cent of the combustible fuel in the form of liquefied petroleum gas are currently being investigated on behalf of a number of engine manufacturers by Calor Gas Ltd at its research and development laboratories in Addlestone, Surrey. The gas is mixed intimately with the air and this improves the air utilization of a typical direct-injection engine by enabling more of the air in the combustion chamber to be burned. Each type of engine is individually evaluated by Calor Gas and the benefits obtainable vary according to design features.
Air pollution is reduced and the engine runs more smoothly in that diesel knock is virtually eliminated over part of the load /speed range. Power can be increased by' up to 15 per cent with a corresponding increase in thermal loading, and investigations include tests of reliability at higher outputs. While LPG has a slightly higher calorific value than diesel fuel, this idvantage is small compared with the better sir utilization that the system provides. The ;ystem is not applicable to diesels with )re-combustion chambers which already lave a relatively high air utilization, their nferior efficiency resulting from higher mmping losses. In some engines the rate of wessure rise is reduced with a consequent mprovement in combustion efficiency. The werall cost of operating a dual-fuel engine s said to compare favourably with the cost
running a conventional diesel and an :ngine can be converted at a comparatively DIV cost.
Partial aspiration by a diesel of a arburetted fuel was investigated many tars ago by a number of makers of automotive engines but while it reduced diesel knock it was found to impair combustion efficiency. The use of LPG as the seoond fuel appears to have overcome this problem and the Calor Gas application is probably the first of its kind in the UK. The engines of a number of the company's vehicles have been converted to dual-fuel operation and one has covered over 80,000 miles. Dual-fuel industrial diesel engines have been operated on sewage gas and diesel fuel over the years.
Recent conversions of spark-ignition petrol engines to LPG operation by Calor Gas include applications to the six-cylinder 300 cu. in. petrol engines of 38 Bedford TK 11.15 ton-gross vehicles. The vehicles were equipped with an LPG system by the operators and their performance was poor. Following tests of a new vehicle in the R and D laboratories, the system was modified and the modification was later applied "in the field" to all the Bedfords. Stop-watch and gradient ability tests have proved that the converted vehicles have a road performance equal to that of unconverted vehicles.
The equipment includes a cylinder weighing 1701b when filled with 801b (15gal) of gas which gives a range of operation of about 150 miles, 74 Ford and Bedford vehicles in the 7 /35cwt category in the same fleet have alsd been converted. Some of the TKs are insulated vehicles, the refrigeration system of which is operated by LPG.
Calor Gas is the sole agent in the UK for the American Beam system and for Italian Tatarini equipment. Tests are made in the laboratories of systems produced in this' country and overseas. Beam equipment has been applied to engines developing up to 375 bhp. Claims made for running on LPG by equipment makers include an increase in the oil-change period from 250 hours to 1000 hours and an increase in engine life of 200/300 per cent.