Licence curtailed after 16 prohibitions
18th December 1970
Page 34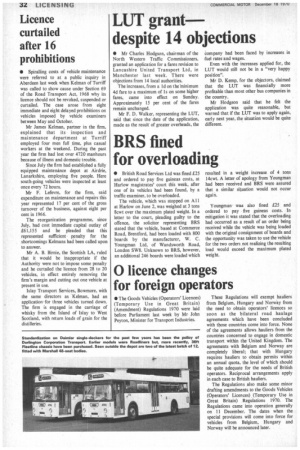 Page 34, 18th December 1970 —
Licence curtailed after 16 prohibitions
Close
• Spiralling costs of vehicle maintenance were referred to at a public inquiry in Aberdeen last week when Kelman of Turriff was called to show cause under Section 69 of the Road Transport Act, 1968 why its licence should not be revoked, suspended or curtailed. The case arose from eight immediate and eight delayed prohibitions on vehicles imposed by vehicle examiners between May and October.
Mr James Kelman, partner in the firm, explained that its inspection and maintenance department at Turriff employed four men full time, plus casual workers at the weekend. During the past year the firm had lost over 4720 manhours because of illness and domestic trouble.
Since July the firm had established a fully equipped maintenance depot at Airdrie, Lanarkshire, employing five people. Here south-going vehicles were inspected at least once every 72 hours.
Mr F. Lefevre, for the firm, said expenditure on maintenance and repairs this year represented 17 per cent of the gross turnover of the business, against eight per cent in 1966.
The reorganization programme, since July, had cost immediate capital outlay of £61,155 and he pleaded that this represented sufficient penalty for the shortcomings Kelmans had been called upon to answer.
Mr A. B. Birnie, the Scottish LA, ruled that it would be inappropriate if the Authority were not to impose some penalty and he curtailed the licence from 28 to 20 vehicles, in effect entirely removing the firm's margin and cutting out one vehicle at present in use.
Islay Transport Services, Bowmore, with the same directors as Kelman, had an application for three vehicles turned down. The firm is engaged in the carriage of whisky from the Island of Islay to West Scotland, with return loads of grain for the distilleries.