Six GV9s after vehicle parade
18th December 1970
Page 33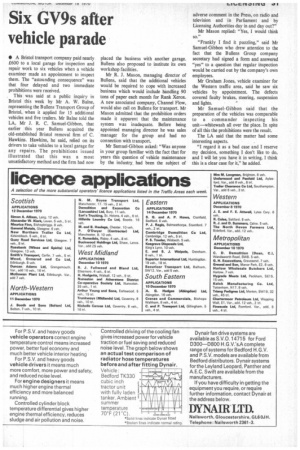 Page 33, 18th December 1970 —
Six GV9s after vehicle parade
Close
• A Bristol transport company paid nearly £600 to a local garage for inspection and repair work to six vehicles when a vehicle examiner made an appointment to inspect them. The "astounding consequence" was that four delayed and two immediate prohibitions were received.
This was said at a public inquiry in Bristol this week by Mr A. W. Balne, representing the Bullens Transport Group of Bristol, when it applied for 15 additional vehicles and five trailers. Mr Balne told the LA, Mr J. R. C. Samuel-Gibbon, that earlier this year Bullens acquired the old-established Bristol removal firm of C. Hawkins. Hawkins, he said, relied on its drivers to take vehicles to a local garage for any repairs. The prohibitions issued illustrated that this was a most unsatisfactory method and the firm had now placed the business with another garage. Bullens also proposed to institute its own workshop facilities.
Mr R. J. Mason, managing director of Bullens, said that the additional vehicles would be required to cope with increased business which would include handling 90 tons of paper each month for Rank Xerox. A new associated compa_ny, Channel Flow, would also call on Bullens for transport. Mr Mason admitted that the prohibition orders made it apparent that the maintenance system was inadequate. Before being appointed managing director he was sales manager for the group and had no connection with transport.
Mr Samuel-Gibbon asked: "Was anyone in your group familiar with the fact that for years this question of vehicle maintenance by the industry had been the subject of adverse comment in the Press, on radio and television and in Parliament and by Licensing Authorities day in and day out?"
Mr Mason replied: "Yes, I would think so.
"Frankly I find it puzzling," said Mr Samuel-Gibbon who drew attention to the fact that the Bullens Group company secretary had signed a form and answered "yes" to a question that regular inspection would be carried out by the company's own employees.
Mr Graham Jones, vehicle examiner for the Western traffic area, said he saw six vehicles by appointment. The defects covered faulty brakes, steering, suspension and lights.
Mr Samuel-Gibbon said that the preparation of the vehicles was comparable to a commander inspecting his unit—whitewash all over the place. In spite of all this the prohibitions were the result.
The LA said that the matter had some interesting aspects.
"I regard it as a bad case and I reserve my decision, something I don't like to do. and I will let you have it in writing. I think this is a clear case for it," he added.