"The disturbed industry"
18th December 1970
Page 32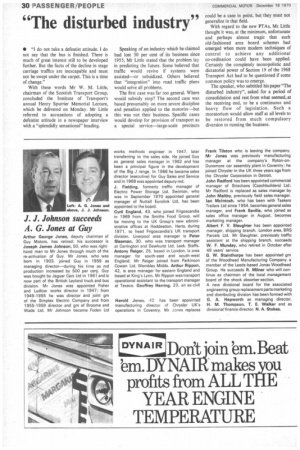 Page 32, 18th December 1970 —
"The disturbed industry"
Close
• "I do not take a defeatist attitude. I do not say that the bus is finished. There is much of great interest still to be developed further. But the facts of the decline in stage carriage traffics are inescapable and must not be swept under the carpet. This is a time of change."
With these words Mr W. M. Little, chairman of the Scottish Transport Group, concluded the Institute of Transport's annual Henry Spurrier Memorial Lecture, which he delivered on Monday. Mr Little referred to accusations of adopting a defeatist attitude in a newspaper interview with a "splendidly sensational" heading.
Speaking of an industry which he claimed had lost 50 per cent of its business since 1955, Mr Little stated that the problem lay in predicting the future. Some believed that traffic would revive if systems were assisted—or subsidized. Others believed that "integration" into road traffic plans would solve all problems.
The first case was far too general. Where would subsidy stop? The second case was based presumably on more severe discipline and penalties applied to the motorist—but this was not their business. Specific cases would develop for provision of transport as a special service—large-scale precincts could be a case in point, but they must not generalize in that field.
With regard to the new PTAs. Mr Little thought it was, at the minimum, unfortunate and perhaps almost tragic that such old-fashioned area board schemes had emerged when more modern techniques of control to achieve any additional co-ordination could have been applied. Certainly the completely monopolistic and dictatorial power of Section 19 of the 1968 Transport Act had to be questioned if some common policy was to emerge.
The speaker, who subtitled his paper "The disturbed industry", asked for a period of consolidation and rest from what seemed, at the receiving end, to be a continuous and heavy flow of legislation. Such a moratorium would allow staff at all levels to be restored from much compulsory diversion to running the business.