'Bad egg' transport managers
18th December 1970
Page 29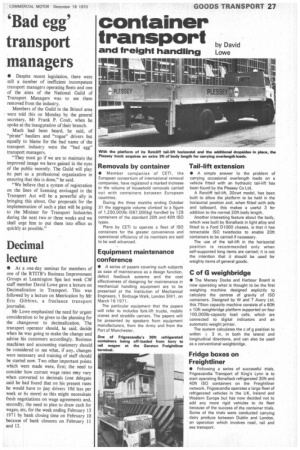 Page 29, 18th December 1970 —
'Bad egg' transport managers
Close
Keywords :
• Despite recent legislation, there were still a number of inefficient incompetent transport managers operating fleets and one of the aims of the National Guild of Transport Managers was to see them removed from the industry.
Members of the Guild in the Bristol area were told this on Monday by the general secretary, Mr Frank P. Coult, when he spoke at the inauguration of their branch.
Much had been heard, he said, of "pirate" hauliers and "rogue" drivers but equally to blame for the bad name of the transport industry were the "bad egg" transport managers.
"They must go if we are to maintain the improved image we have gained in the eyes of the public recently. The Guild will play its part as a professional organization in ensuring that this is done," he said.
"We believe that a system of registration on the lines of licensing envisaged in the Transport Act will be a powerful ally in bringing this about. Our proposals for the implementation of such a plan will be going to the Minister for Transport Industries during the next two or three weeks and we shall urge him to put them into effect as quickly as possible."