New smoke standard for 1972 vehicles
18th December 1970
Page 25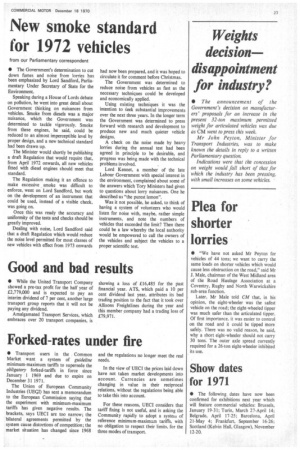 Page 25, 18th December 1970 —
New smoke standard for 1972 vehicles
Close
from our Parliamentary correspondent • The Government's determination to cut down fumes and noise from lorries has been emphasized by Lord Sandford, Parliamentary Under Secretary of State for the Environment.
Speaking during a House of Lords debate on pollution, he went into great detail about Government thinking on nuisances from vehicles. Smoke from diesels was a major nuisance, which the Government was determined to tackle vigorously. Smoke from these engines, he said, could be reduced to an almost imperceptible level by proper design, and a new technical standard had been drawn up.
The Minister would shortly be publishing a draft Regulation that would require that, from April 1972 onwards, all new vehicles fitted with diesel engines should meet that standard.
The Regulation making it an offence to make excessive smoke was difficult to enforce, went on Lord Sandford, but work on the development of an instrument that could be used, instead of a visible check, was going on.
Once this was ready the accuracy and uniformity of the tests and checks should be greatly improved.
Dealing with noise, Lord Sandford said that a draft Regulation which would reduce the noise level permitted for most classes of new vehicles with effect from 1973 onwards had now been prepared. and it was hoped to circulate it for comment before Christmas.
The Government was determined to reduce noise from vehicles as fast as the necessary techniques could be developed and economically applied.
Using existing techniques it was the intention to §eek substantial improvements over the next three years. In the longer term the Government was determined to press forward with research and development to produce new and much quieter vehicle designs.
A check on the noise made by heavy lorries during the annual test had been agreed in principle to be desirable, and progress was being made with the technical problems involved.
Lord Kennet, a member of the late Labour Government with special interest in the environment, complained about some of the answers which Tory Ministers had given to questions about lorry nuisances. One he described as "the purest lemon".
Was it not possible. he asked. to think of having a system of volunteers who would listen for noise with, maybe. rather simple instruments, and note the numbers of vehicles that exceeded the limit? Then there could be a law whereby the local authority would be empowered to call the owners of the vehicles and subject the vehicles to a proper scientific test.