Forked-rates under fire
18th December 1970
Page 25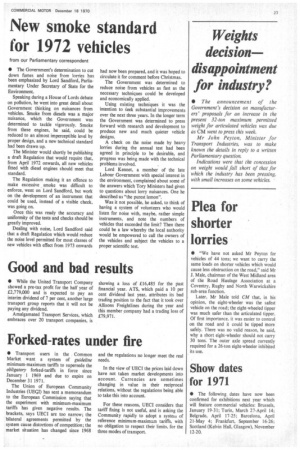 Page 25, 18th December 1970 —
Forked-rates under fire
Close
• Transport users in the Common Market want a system of guideline minimum-maximum tariffs to supersede the obligatory forked-tariffs in force since January 1 1969 and due to expire on December 31 1971.
The Union of European Community Industries (UEcI) has sent a memorandum to the European Commission saying that the experiment with minimum-maximum tariffs has given negative results. The brackets, says UECI are too narrow; the bilateral agreements permitted by the system cause distortions of competition; the market situation has changed since 1968 and the regulations no longer meet the real needs.
In the view of UECI the prices laid down have not taken market developments into account. Currencies are sometimes changing in value in their reciprocal relations, without the regulations being able to take this into account.
For these reasons. UECI considers that tariff fixing is not useful. and is asking the Community rapidly to adopt a system of reference minimum-maximum tariffs, with no obligation to respect their limits, for the three modes of transport.