Finland-built trucks for UK market soon
18th December 1970
Page 24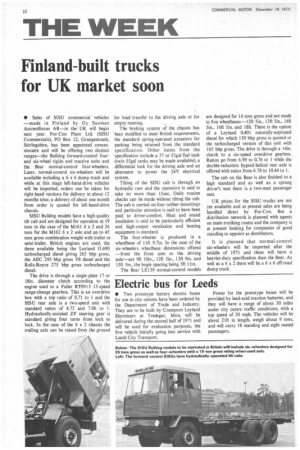 Page 24, 18th December 1970 —
Finland-built trucks for UK market soon
Close
Keywords :
Land Transport
,
Transport
,
Road Transport
,
Trucks
,
Semi-trailer Truck
,
Dodge Ram
,
Dump Truck
,
Overdrive
,
Associated Equipment Company
,
Standard Motor Company
,
Sisu Auto
• Sales of SISU commercial vehicles —made in Finland by Oy Suomen Autoeollisuus AB—in the' UK will begin next year. For-Con Plant Ltd. (SISU Commercials), PO Box 12, Grangemouth, Stirlingshire, has been appointed concessionaire and will be offering two distinct ranges—the Bulldog forward-control fourand six-wheel rigids and tractive units and the Bear normal-control four-wheelers. Later, normal-control six-wheelers will be available including a 6 x 6 dump truck and while at this stage left-hand-drive vehicles will be imported, orders can be taken for right-hand versions for delivery in about 12 months time; a delivery of about one month from order is quoted for left-hand-drive chassis.
SISU Bulldog models have a high-quality tilt cab and are designed for operation at 19 tons in the case of the M161 4 x 2 and 26 tons for the M162 6 x 2 solo and up to 45 tons gross combination weight with trailer or semi-trailer. British engines are used, the three available being the Leyland 0.690 turbocharged diesel giving 265 bhp gross, the AEC 295 bhp gross V8 diesel and the Rolls-Royce 275 bhp gross turbocharged diesel.
The drive is through a single-plate 17 or 18in. diameter clutch according to the engine used to a Fuller RT0913 I3-speed range-change gearbox. This is an overdrive box with a top ratio of 0.71 to 1 and the SISU rear axle is a two-speed unit with standard ratios of 4.72 and 7.06 to 1. Hydraulically-assisted ZF steering gear is standard giving four turns from lock to lock. In the case of the 6 x 2 chassis the trailing axle can be raised from the ground for load transfer to the driving axle or for empty running.
The braking system of the chassis has been modified to meet British requirements, the standard spring-operated actuators for parking being retained from the standard specification. Other items from the specification include a 37 or 55ga1 fuel tank (twin 55ga1 tanks may be made available), a differential lock for the driving axle and an alternator to power the 24V electrical system.
Tilting of the SISU cab is through an hydraulic ram and the operation is said to take no more than 15sec. Daily routine checks can be made without tilting the cab. The cab is carried on four rubber mountings and particular attention is said to have been paid to driver-comfort. Heat and sound insulation is said to be particularly efficient and high-output ventilation and heating equipment is standard.
The four-wheeler is produced in a wheelbase of 11ft 9.7in. In the case of the six-wheelers wheelbase dimensions offered —from the front axle to the driving axle—are 9ft 10in., 12ft 5in., 13ft 9in. and 15ft lin,, the bogie spacing being 3f1 1 lin.
The Bear LE139 normal-control models are designed for 16 tons gross and are made in five wheelbases-12ft 5in., 13ft 5in., 14ft 5in., 16ft 5in. and 18ft. There is the option of a Leyland 0.401 naturally-aspirated diesel for which 150 bhp gross is quoted or the turbocharged version of this unit with 165 bhp gross. The drive is through a 14in. clutch to a six-speed overdrive gearbox.. Ratios go from 6.99 to 0.76 to 1 while the double-reduction hypoid-helical rear axle is offered with ratios from 6.78 to 10.44 to 1.
The cab on the Bear is also finished to a high standard and as well as a sprung driver's seat there is a two-man passenger seat.
UK prices for the SISU trucks are not yet available and at present sales are being handled direct by For-Con. But a distribution network is planned with agents on main trtniking routes and the company is at present looking for companies of good standing to appoint as distributors.
It is planned that normal-control six-wheelers will be imported after the middle of 1971 and these will have a heavier-duty specification than the Bear. As well as a 6 x 2 there will be a 6 x 6 off-road dump truck.