Insurance Engineers Can Tell
18th April 1958
Page 62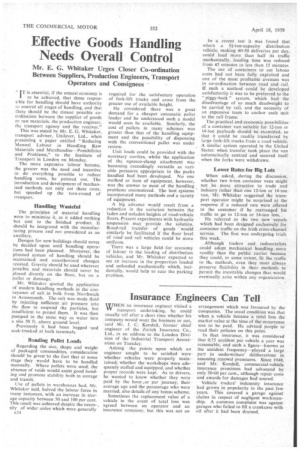 Page 62, 18th April 1958 —
Insurance Engineers Can Tell
Close
WHEN an insurance engineer visited a transport undertaking, he could usually tell after a short time whether his company would want the business or not, said Mr. J. C. Kendall, former chief engineer of the Zurich Insurance Co., Ltd., in an address to the London Division of the Industrial Transport Association on Tuesday.
Among the points upon which an engineer sought to be satisfied were whether vehicles were properly maintained, whether the workshops were adequately staffed and equipped, and whether proper records were kept. As to drivers, he wanted to know whether they were paid by the hour .or per journey, their average age and the percentage who were married, also details of any bonus scheme.
Sometimes the replacement value of a vehicle in the event of total loss was agreed between an operator and an insurance company, but this was not an
arrangement which was favoured by the companies. The usual condition was that when a vehicle became a total loss the market value at the time of the occurrence was to be paid. He advised people to read their policies on this point.
In fleet insurance, it was considered that 0.75 accident per vehicle a year was reasonable, and such a figure—known as the accident frequency—played a large part M underwriters' deliberations in assessing renewal premiums. Since 1948, said Mr. Kendall, commercial-vehicle insurance premiums had advanced by only 50-60 per cent., although repair costs and awards for damages had soared.
Vehicle traders' indemnity insurance had grown in popularity in the past few years. This covered a garage against claims in respect of negligent workmanship. A common complaint was against garages who failed to fill a crankcase with oil after it had been drained.