How London Peak-hour Traffic Fluctuated
18th April 1958
Page 49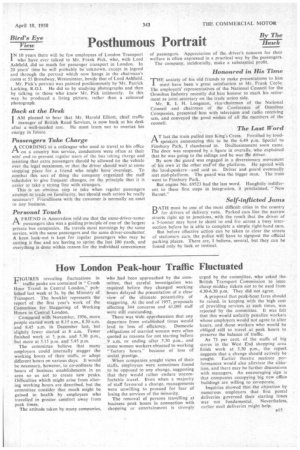 Page 49, 18th April 1958 —
How London Peak-hour Traffic Fluctuated
Close
FIGTJRES revealing fluctuations in traffic peaks are contained in "Crush Hour Travel in Central London," published last week at 3s. by the Ministry of Transport. The booklet represents the report of the first year's work of the Committee for Staggering of Working Hours in Central London.
Compared with November, 1956, more people started work at 8.15 a.m., 8.30 a.m. and 8.45 a.m. in December last, but slightly fewer started at 8 a.m. Fewer finished work at 5_ p.m. and 5.30 p.m:, but more at 5.15 p.m. and 5.45 p.m.
The committee believe that many employers could internally stagger the working hour,s of their staffs, or adopt different hours on various days. It would be necessary, however, to co-ordinate the hours of business establishment's in an area so as not to create new peaks. Difficulties which might arise from altering working hours are described, but the committee consider that much might be gained in health by employees who travelled in greater comfort away from peak times.
The attitude taken by many companies, who had been approached by the committee, that careful investigation was required before they changed working hours delayed the presentation of a clear view of the ultimate potentiality of staggering. At the end of 1957, proposals affecting 344 concerns and 61,095 staff were still outstanding.
There was wide apprehension that any departure from established times would lead to loss of efficiency. Domestic obligations of married women were often quoted as reasons for not starting beiore 9 a.m. or ending after .5.30 p.m., and some women workers objected to working "factory hours" because of loss of social prestige.
When companies sought views of their staffs, employees were sometimes found to be opposed to any change, suggesting that they would rather endure uncomfortable travel. Even when a majority of staff favoured a change, managements were unwilling to proceed for fear of losing the services of the Minority.
The removal of persons travelling at business peak hours in connection with shopping or entertainment is strongly urged by the committee, who asked the British Transport Commission to issue cheap midday tickets not to be used from 4.30-6.30 p.m. They did not agree.
A proposal that peak-hour fares should be raised, in keeping with the high cost of Providing services at such times, was rejected by the committee. It was felt that this would unfairly penalize workers whose employers would not agree to alter hours, and those workers who would be obliged still to travel at peak hours to preserve the balance of traffic.
As 71 per cent. of the staffs of big stores in the West End shopping area finish work at 5.30 p.m., the report suggests that a change should actively be sought. Earlier theatre matinee performances would also alleviate the sitnalion, and there maybe further discussions with managers. An encouraging sign is that companies occupying big new office buildings are willing to co-operate.
Inquiries showed that -the objection by numerous employers that first postal deliveries governed their starting times was not fundamental. Nevertheless, earlier mail deliveries might help.