Micrograms
18th April 1958
Page 45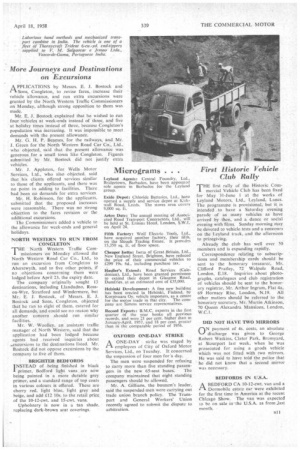 Page 45, 18th April 1958 —
Micrograms
Close
Leyland Agents: Central Foundry, Ltd., Bridgetown, Barbados, have been appointed sole agents in Barbados for the Leyland group.
Exide Depot: Chloride Batteries, Ltd., have opened a supply and service depot at Kitkstall Road, Leeds. The stores area coNns 9,000 sq. ft.
Artco Date: The annual meeting of Associated Road Transport Contractors, Ltd., will be held at St. Ermins Hotel., London, &WI, on April 24.
Fifth Factory: Wolf Electric Tools, Ltd., have acquired another factory, their fifth, on the Slough Trading Estate. It provides 15,350 sq. ft. of floor space.
Cheaper Isetta: Isetta of GreatJ3ritain, Ltd., New England Street, Brighton, have reduced the price of their commercial vehicles to £299 19s. 6d., including purchase tax.
Haulier's Extend: Road Services (Caledonian), Ltd., have been granted permission to extend their depot in Glasgow Road, Dumfries, at an estimated cost of £35,000.
Flelsinki Development: A fine new building has been erected in Helsinki, Finland, by Korpivaara Oy. vehicle importers, as a centre for the motor trade in that city. The company are Simms service representatives.
Record Exports: B.M.C. exports in the first Quarter of the year broke all previous records, and were 21 per cent, higher than in January-April, 1957. and 18 per cent, greater than in the comparable period of 1956.
OXFORD ONE-DAY STRIKE
1-1. A ONE-DAY strike was staged by employees of City of Oxford Motor Services, Ltd.. on Tuesday. It concerned the suspension of four men for 's day.
The men were suspended for refusing to carry more than five standing passen gers in the new 65-seat buses. The company maintained that eight standing passengers should be allowed.
Mr. A. Gillians. the busmen's leader, said the suspended men were carrying out trade union branch policy. The Transport and General Workers' Union recently agreed to submit the dispute to arbitration.