New Leyland Concern in Central Africa
18th April 1958
Page 42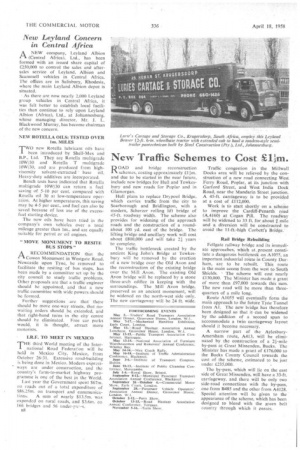 Page 42, 18th April 1958 —
New Leyland Concern in Central Africa
Close
I—I A NEW company, Leyland Albion NEW Africa), Ltd., has been formed with an issued share capital of E250,000 to control the sales and aftersales service of Leyland, Albion arid Scammell vehicles in Central Africa. The offices are in Salisbury, Rhodesia, where the main Leyland Albion depot is situated.
As there arc now nearly 2,000 Leyland group vehicles in Central Africa, it was felt better to establish local facilities than continue to rely upon Leyland Albion (Africa), Ltd., at Johannesburg, whOse managing director, Mr. J. L. Blackwood Murray, has become chairman of the new concern.
NEW ROTELLA OILS: TESTED OVER MILES
TWO new Rotella lubricant oils have
been introduced by Shell-Mex and B.P., Ltd. They are Rotella multigrade 10W/30 and Rotella T multigrade 10W/30, and are produced from high viscosity solvent-extracted ' base oil. Heavy-duty additives are incorporated.
Bench tests have indicated that Rotella multigrade 10W/30 can return a fuel saving of 5-10 per cent. compared with Rotella oil 30 at low-temperature operation. At higher temperatures, this saving may be 4-5 per cent., and fuel can also be saved because of less use of the excess. fuel starting device.
The new oils have been tried in the company's own vehicles over a total mileage greater than 1m., and are equally suitable for petrol or oil engines.
" MOVE MONUMENT TO RESITE BUS STOPS"
A RECOMMENDATION that the 1-1 Cowen Monument in Westgate Road, Newcastle upon Tyne, be removed to facilitate the resiting of bus stops, has been made by a committee set up by the city council to study traffic problems. Other proposals are that a traffic engineer should be appointed, and that a new traffic committee with wide powers should be formed.
Further suggestions -are that there should he more one-way streets, that nowaiting orders should be, extended, and that right-hand turns in the city centre should he eliminated. Free car parks would, it is thought, attract more motorists.
TO MEET IN MEXICO THE third World meeting of the Inter' national Road Federation will be hel6 in Mexico City, Mexico, from October 26:31. Extensive road-building is being done in Mexico. Modern expressways are under construction, and the country's farm-to-market highway programme is one of the best in the World. Last year the Government spent 567m. on roads out of a total expenditure of S86.25m. on transport and communica tions. A sum of nearly S13.5m. was expended on rural roads, and $3.6m. on 166 bridges and 56 under.-a'-c.
nt3