Thomas Allen Deliver in Ulster
18th April 1958
Page 41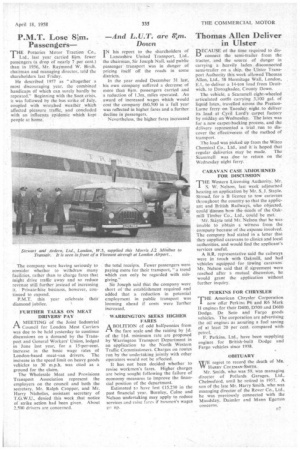 Page 41, 18th April 1958 —
Thomas Allen Deliver in Ulster
Close
BECAUSE of the time required to disconnect the semi-trailer from the tractor, and the source of danger in carrying a heavily laden _ disconnected semi-trailer on a ship, the Ulster Transport Authority this week allowed Thomas Allen, Ltd., 58 Hermitage Wall, London, El, to -deliver a 14-ton load from Droitwich, to Donaghadee, County Down.
The vehicle, a Scammell eight-wheeled articulated outfit carrying 3,100 gal. of liquid latex, travelled, across the PrestonLarne ferry on .Tuesday night to deliyer its load at Cyril Lord's carpet factory by midday on Wednesday. The latex was for a new carpet-backing process, and the delivery represented a trial run to discover the effectiveness of the method of transport.
The load was picked up from the Witco Chemical Co., Ltd.. and it is hoped that
regular deliveries may be made. The Scum-nen was due to return on the Wednesday night ferry.
CARAVAN CASE ADJOURNED FOR DISCUSSION
THE Western Licensing Authority, Mr. S. W. Nelson, last week adjourned hearing an application by Mr. S. J. Stayte. Stroud, for a B licence to tow caravans throughout the country so that the applicant and British Railways, who objected, could discuss how the needs of the Oakmill Timber Co., Ltd., could be met.
Mr. Stayte told Mr. Nelson that he was unable to obtain a witness from the company because of the expense involved. The company had stated in a letter that they supplied caravans to clinics and local authorities, and would find the applicant's services useful.
A B.R. representative said the railways were in touch with Oakmill, and had vehicles equipped for towing caravans Mr. Nelson said that if. agreement were reached after a mutual discussion, he would grant the application without further inquiry.
PERKINS FOR CHRYSLER THE American Chrysler Corporation
now offer Perkins P6 and R6 Mark II engines for their D400, D500 and D600 Dodge, De Soto and Fargo goods vehicles. The corporation are advertising the oil engines as assuring a fuel saving of at least 20 per cent. compared with petrol. , F. Perkins. Ltd., have been supplying engines for British-built Dodge and Fargo vehicles since 1938.
OBITUARY
WE regret to record the death of MR. VY HARRY COLEMAN-SMITH.
Mr. Smith, who was 59, was managing director of Pollards Garages, Ltd., Chelmsford, until he retired in 1957. A son of the late Mr. Harry Smith, who was managing director of the Rover Co., Ltd., he was previously connected with the Maudslay. Daimler and Mann Egerton concerns.