P.M.T. Lose 8- 4 'm. Passengers— THE Potteries Motor Traction Co., I
18th April 1958
Page 41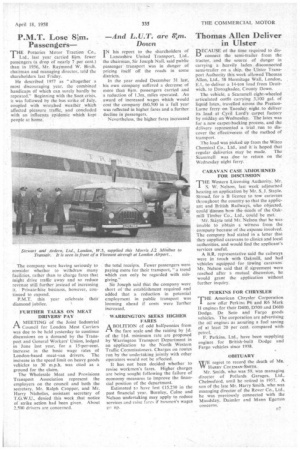 Page 41, 18th April 1958 —
P.M.T. Lose 8- 4 'm. Passengers— THE Potteries Motor Traction Co., I
Close
Ltd., last year carried 8inn. fewer passengers (a drop of nearly 7 per cent.) than in 1956, Mr. Raymond W. Birch, chairman and managing director, told the shareholders last Friday.
He described 1957 as "altogether a most discouraging year, the combined handicaps of which can surely hardly be repeated." Beginning with the Suez crisis, it was followed by the bus strike of July, coupled with wretched weather which affected pleasure traffic, and concluded with an influenza epidemic which kepi people at home.
The company were having seriously to consider whether to withdraw many facilities, rather than to charge fares that might drive traffic away and so reduce revenue still further instead of increasing it. Private-hire business, however, continued to expand.
P.M.T. this year celebrate their diamond jubilee.
FURTHER TALKS ON MEAT DRIVERS' PAY
A MEETING of the Joint Industrial
Council for London Meat Carriers was due to be held yesterday to continue discussions on a demand by the Transport and General Workers' Union, lodged in June last year, for a 15-per-cent. increase in the basic wage rates of London-based meat-van drivers. The increase in the speed limit on heavy goods vehicles to 30 m.p.h. was cited as a ground for the claim.
The Wholesale Meat and Provisions Transport Association represent the employers on the council and both the secretary, Mr. Ralph Cropper, and Mr. Harry Nicholas, assistant secretary of T.Ci.W.U., denied this week that notice of strike action had been given. About 2,500 drivers are concerned.