—And L.U.T. are Down
18th April 1958
Page 41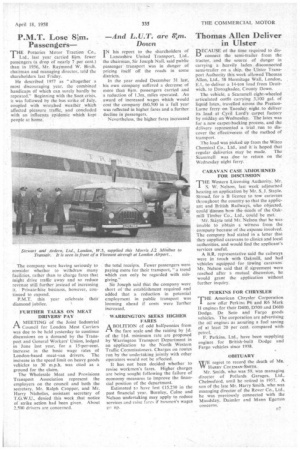 Page 41, 18th April 1958 —
—And L.U.T. are Down
Close
I N his report to the shareholders of Lancashire United Transport, Ltd., the chairman, Sir Joseph Nall, said public passenger transport was in danger of pricing itself off the roads in some districts.
In the year ended December 31 last, his own company suffered a decrease of more than ttim. passengers carried and a reduction of 1.3m.,. miles operated. An award of increased wages which would cost the company 160,500 in a full year was reflected in higher fares and a further decline in passengers.
Nevertheless, the higher fares increased the total receipts. Fewer passengers were paying more for their transport, "a trend which can only be regarded with misgiving."
Sir Joseph said that the company were short of the establishment required and added that a reduction in potential employment in public transport was looming ahead if costs were further increased.
WARRINGTON SEEKS HIGHER FARES
ABOLITION of odd halfpennies from the fare scale and the raising by Id. of the Ild. minimum rate are proposed by Warrington Transport Department in an application to the North Western Traffic Commissioners. Charges on routes run by the undertaking jointly with other operators would not be affected.
It has not been decided whether to revise workmen's fares. Higher charges are being sought following the failure of economy measures to improve the financial position of the department.
Estimated to have lost £15.230 in the past financial year, Burnley, Colne and Nelson undertaking may apply to reduce services and raise fares if busmen's wages