Union Protest to Minister on Bus Cuts
18th April 1958
Page 39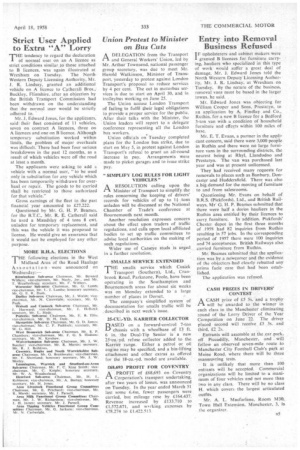 Page 39, 18th April 1958 —
Union Protest to Minister on Bus Cuts
Close
A DELEGATION from the Transport Pis and General Workers' Union, led by Mr. Arthur Townsend, national passenger group secretary, was due to meet Mr. Harold Watkinson, Minister of Transport, .yesterday to protest against London Transport's proposal to reduce services by 4 per cent. The cut in motorbus services is due to start on April 30, and in trolleybus working on June 25.
The Union accuse London Transport of failing to fulfil their legal obligations to provide a proper service for the public. After their talks with the Minister, the Union leaders will report to a delegate conference representing all the London bus workers. • Union officials on Tuesday completed plans for the London bus strike, due to start on May 5, in protest against London Transport's refusal to grant an all-round increase in pay. Arrangements were made to picket garages and to issue strike pay.
"SIMPLIFY LOG RULES FOR LIGHT VEHICLES"
AA RESOLUTION calling upon the Minister of Transport to simplify the rules concerning the keeping of drivers' records for vehicles of up to 14 tons unladen will be discussed at the National Chamber of Trade's conference at Bournemouth next month.
Another resolution expresses concern about the effect upon traders of traffic regulations, and calls upon local affiliated bodies to set up traffic committees to advise local authorities on the making of such regulations.
Wider use of Catseye studs is urged in a further resolution.
• SMALLS SERVICE EXTENDED THE smalls service which Cusick Transport (Southern), Ltd., Cranbrook Road, Parkstone, Poole, have been operating in the Southampton and Bournemouth areas for about six weeks was on Monday extended to a large number of places in Dorset.
The company's simplified system of documentation for smalls traffic will be described in next week's issue.
25-CU.-YD. KARRIER COLLECTOR
BASED on a forward-control 7-ton chassis with a wheelbase of 13 ft. 6 in. the Dual-Tip Senior is a new 25-cu.-yd. refuse collector added to the Karrier range. Either a petrol or oil engine may be specified, and a bin-lifting attachment and other extras as offered for the 18-cu.-yd. model are available.
£68,693 PROFIT FOR COVENTRY PROFIT of £68,693 on Coventry Corporation's transport undertaking, after two years of losses, was announced on Tuesday. In the year ended March 31 last some 6.4m. fewer passengers were carried. but mileage rose by £164.437. Revenue increased by £133.710 to £1,572,671, and w•rking expenses by £78.274 to £1.422.513,