Entry into Removal Business Refused
18th April 1958
Page 39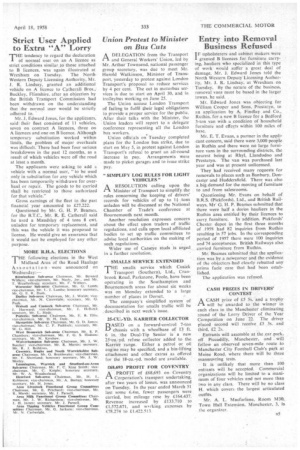 Page 39, 18th April 1958 —
Entry into Removal Business Refused
Close
IF upholsterers and cabinet makers were 1 granted B licences for furniture carrying, hauliers who specialized in this type of work would suffer a great deal of damage. Mr. J. Edward Jones told the North Western Deputy Licensing Authority, Mr. J. R. Lindsay, at Wrexham on Tuesday. By the nature of the business, removal vans must be based in the larger towns. he said.
Mr. Edward Jones was objecting for William Cooper and Sons, Prestatyn, to an application by A. Findlay and Co., Ruthin, for a new B licence for a Bedford 3-ton van with a condition of household furniture and effects within 100 miles of base.
Mr. E. T. Evans, a partner in the applicant concern, said there were 3,000 people in Ruthin and there were no large furniture vans in the surrounding districts, the nearest being at RhyI, Llandudno and Prestatyn. The van was purchased last year and was at present unlicensed.
They had received many requests for removals to places such as Banbury, Doncaster and Huddersfield. There was also a big demand for the moving of furniture to and from salesrooms.
Questioning Mr. Evans on behalf of B.R.S. (Pickfords), Ltd., and British Railways, MrG. H. P. Beames submitted that there were half a dozen hauliers in the Ruthin area entitled by their licences to
carry furniture. In addition. Pickfords' Chester depot in the first three months of 1958 had 82 inquiries from Ruthin resulting in 57 iohs. In the corresponding period of 1957 there were 100 inquiries and 74 acceptances. British Railways also carried furniture from Ruthin.
Mr. Beames submitted that the application was by a newcomer and the evidence a the objecters•had clearly rebutted any prima fade case that had been established.
The application was refused.