State Loans for Small Bus Owners?
18th April 1958
Page 36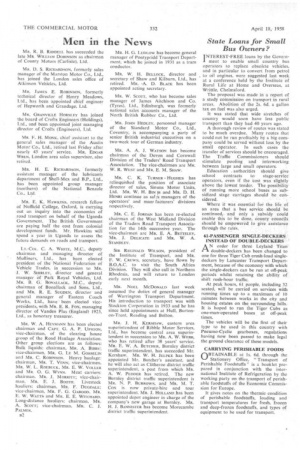 Page 36, 18th April 1958 —
State Loans for Small Bus Owners?
Close
INTEREST-FREE loans by the Govern ment to enable small country bus operators to replace obsolete vehicles, and in particular to convert from petrol to oil engines, were suggested last week at a conference held by the Institute of Rural Life at Home and Overseas, at Writtle, Chelmsford.
The proposal was made in a report of a study commission on transport in rural areas. Abolition of the 2s. 6d. a gallon tax on fuel was also urged.
It was stated that wide stretches of country would soon have less public transport than they had 40 years ago.
A thorough review of routes was stated to be much overdue. Many routes that could not be run profitably by a big company could be served without loss by the small operator. In such cases the transfer of services should be encouraged. The Traffic Commissioners should stimulate pooling and interworking between large and small operators.
Education authorities should give school contracts to stage-service operators, even if the 'cost was slightly above the lowest tender. The possibility of running more school buses as 'subsidized stage carriages should be cOnsidered.
Where it was essential for the life, Of an area that a bus service should be continued, and only a subsidy could enable this to be drone, County councils should be empowered to give assistance through the rates.
61-PASSENGER SINGLE-DECKERS INSTEAD OF DOUBLE-DECKERS
AN order for three Leyland Titan double-deckers has been chatiged to one for three Tiger Cub crush-load singledeckers by Lancaster Transport Department, because of the economy with which the single-deckers can be run at off-peak periods whilst retaining the ability of shift rush-hour traffic.
At peak hours, 61 people, including 32 seated, will be carried on services with running times up .to a maximum of 10 minutes between works in the city and housing estates on the surrounding hills. It is hoped to run the Tiger Cubs as one-man-operated buses at off-peak times.
The vehicles will be the first of their type to be used in this country with Pneumo-Cyclic gearboxes, regulations having now been passed to make legal the ground clearance of these models.
CARRYING PERISHABLE FOODS
(-113TAINABLE ls. 6d. through the \--I Stationery Office, " Transport of Perishable Foodstuffs" is a booklet prepared in conjunction with the international institute of Refrigeration by the working party on the transport of perishable foodstuffs of the Economic Commission for Europe.
It gives notes on the thermic condition of perishable foodstuffs, loading and transport temperatures for fresh, frozen and deep-frozen foodstuffs, and types of equipment to he used for transport.