Men in the News MR. R. B. RIDDELL has succeeded
18th April 1958
Page 36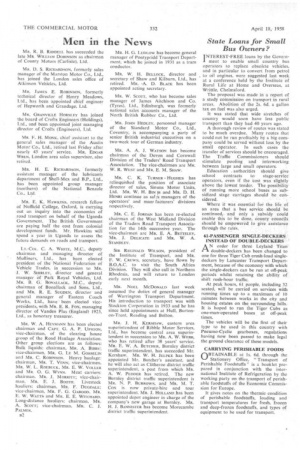 Page 36, 18th April 1958 —
Men in the News MR. R. B. RIDDELL has succeeded
Close
the late MR. WILLIAM DOBINSON as chairman of County Motors (Carlisle), Ltd.
MR. D. S. RICHARDSON, formerly sales manager of the Marston Motor Co., Ltd., has joined the London sales office of Atkinson Vehicles, Ltd.
MR, JAMES E. ROBINSON, formerly technical director of Henry Meadows, Ltd" has been appointed chief engineer of Hepworth and Grandage, Ltd.
MR, GRANVILLE HORSLEY has joined the board of Crofts Engineers (Holdings), Ltd., and been appointed joint managing director of Crofts (Engineers), Ltd, MR. F. H. MONK, Chief assistant to the general sales manager of the Austin Motor Co., Ltd., 'retired last Friday after nearly 45 years' service. MR. EDGAR WREN, London area sales supervisor, also retired.
MR. H. E. RICHARDSON, formerly assistant manager of the lubricants department of Shell-Mex and B.P., Ltd., has been appointed group manager (northern) of the National Benzole Co., Ltd.
MR. E. K. HAWKINS, research fellow of Nuffield College, Oxford, is carrying out an inquiry into the economics of .road transport on behalf of the Uganda Government. The British Government are paying hall' the cost from colonial development funds. Mr. Hawkins will spend a year in Uganda to assess the future demands on roads and transport.
LT.-COL. C. A. WHITE, MC., deputy chairman and managing director of Mu'liners, Ltd., has been elected president of the National Federation of Vehicle Trades, in ° succession to MR. J. W. SHIRLEY, director and general manager Of• Park Royal Vehicles, Ltd. MR. B. G. BoiNALLAcx, M.C., deputy chairman of Bonallack and Sons, Ltd., and MR. R. E. SUGDEN, director and general manager of Eastern Coach Works, Ltd., have been elected vicepresidents, with MR. E. R. Fox, managing director of Vanden Plas (England) 1923, Ltd., as honorary treasurer.
MR. W. A. HEYMANN has been elected chairman and CAPT. G. A. P. UPSTON, vice-chairman, of the clearing house group of the Road Haulage Association. Other group elections are as follows: Bulk liquids: chairman, MR. A. BIBBY; vice-chairmen, MR. G. LE M. GOSSEL1N and MR. C. ROBINSON. Heavy haulage: chairman, MR. T. VENN; vice-chairmen. MR. W. L. ROEBUCK, MR. E. W. VOLLER and MR, 0. G. WYNN. Meat carriers: chairman. MR. J. MORRITT; vice-chairman, MR. E. J. Boom. Livestock hauliers: chairman, MR. F. DUGDALE; vice-chairmen, MR. F. G. GAROOD, MR. E. W. WATTS and MR. E. E. WITCHARD. Long-distance hauliers: chairman. MR. A. Scorr; vice-chairman. MR. C. J. PALMER.
B2
MR. H. G. LUDLOW has become general manager of Pontypridd Transport Department, which he joined in 1931 as a tram conductor.
MR, W. H. BELLOCK, director and secretary of Shaw and Kilburn. Ltd., has retired. MR. .A. D. BLACK has been appointed acting secretary.
MR. W. SCOTT, who has become sales manager of James Aitchison and Co. (Tyres), Ltd., Edinburgh, was formerly national sales accounts manager of the North British Rubber Co., Ltd.
MR. JOHN HEDLEY, personnel manager of the Standard Motor Co., Ltd., Coventry, is accompanying a party of senior British industrial executives on a two-week tour of German industry.
MR. A. A. J. WATSON has become chairman of the Devon and Cornwall Division of the Traders' Road Transport Association. The vice-chairmen are MR. W. R. WEST and MR. E. M. SHAW.
MR. C. K. TURNER HUGHES has relinquished the position of associate director of sales, Simms Motor Units, Ltd. MR. W. H. BIN !S and MR. D. H. HENRI continue as sal :s managers of the operators' and man' faCturers' divisions respectively.
MR. C. E. JORDAN has been re-elected chairman of the West Midland Division of the Traders Road Transport Association for the 14th successive year. The vice-chairmen are MR. E. A. BETTELEY, MR. J. DELICATE and MR. W. A. STANDLEY.
SIR REGINALD WILSON, president of the Institute of Transport, and MR. F. W. CREWS, secretary, have flown by B.O.A.C. to visit the South Africa Division. They will also call in Northern Rhodesia, and will return to London early next month.
MR. NOEL MCDONALD last week assumed the duties of general manager of Warrington Transport Department. His introduction to transport was with Stockton Corporation in 1933 and he has since held appointments at Hull, Burtonon-Trent, Reading and Bolton.
MR. J. H. KERSHAW, eastern area superintendent of Ribble Motor Services, Ltd., has become central area superintendent in succession to MR. A. W. WEBB, who has retired after 38 years' service. MR. E. W. A. BUTCHER, Burnley district traffic superintendent, has succeeded Mr. Kershaw. MR. W. H. JELPKE has been appointed Mr. Butcher's assistant, and he will also act as Clitheroe district traffic superintendent, a post from which MR. A. W. PEDDER has retired. The new Burnley district traffic superintendent is MR. N. P. BURROWS, and MR. M. T. Cox is now private-hire and tour superintendent. MR. J. HOLLAND has been appointed depot engineer in charge of the company's new garage at Burnley. MR. H. J. BANNISTER has become Morecambe district traffic superintendent.
Tags
Organisations
:
National Federation of Vehicle Trades
,
Institute of Transport
,
Cornwall Division of the Traders
,
Devon
,
Nuffield College
,
British Government
,
Uganda Government
,
Traders' Road Transport Association
,
South Africa Division
,
Road Haulage Association
,
Road Transport Association
People
:
C. J. PALMER
,
W. A. BUTCHER
,
R. E. SUGDEN
,
W. H. BELLOCK
,
F. DUGDALE
,
NOEL MCDONALD
,
J. W. SHIRLEY
,
A. W. PEDDER
,
F. G. GAROOD
,
W. H. BIN
,
G. LE M
,
A. D. BLACK
,
E. K. HAWKINS
,
W. R. WEST
,
D. S. RICHARDSON
,
J. MORRITT
,
M. T. Cox
,
E. M. SHAW
,
W. A. STANDLEY
,
JOHN HEDLEY
,
E. W. WATTS
,
C. ROBINSON
,
EDGAR WREN
,
W. SCOTT
,
D. H. HENRI
,
N. P. BURROWS
,
H. G. LUDLOW
,
A. W. WEBB
,
GRANVILLE HORSLEY
,
A. BIBBY
,
F. H. MONK
,
JAMES E. ROBINSON
,
E. E. WITCHARD
,
C. K. TURNER HUGHES
,
T. VENN
,
W. H. JELPKE
,
J. H. KERSHAW
,
F. W. CREWS
,
WILLIAM DOBINSON
,
E. W. VOLLER
,
E. A. BETTELEY
,
J. DELICATE
,
E. R. Fox
,
REGINALD WILSON
,
E. J. Boom
,
H. J. BANNISTER
,
C. E. JORDAN
,
A. Scorr
,
C. A. WHITE
,
W. A. HEYMANN