Luton Wants Holiday Coaches : Appeal Fails
18th April 1958
Page 35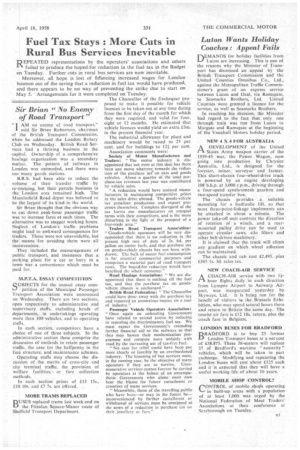 Page 35, 18th April 1958 —
Luton Wants Holiday Coaches : Appeal Fails
Close
DEMANDS for holiday facilities from Luton are increasing. This is one of the reasons why the Minister of Transport has dismissed an appeal by the British Transport Commission and the United Counties Omnibus Co., Ltd., against the Metropolitan Traffic Commissioner's grant of an express service between Luton and Deal, via Ramsgate, to Seamarks Brothers, Ltd. United Counties were granted a licence for the service, as well as Seamarks Brothers. In reaching his decision, the Minister had regard to the fact that only one through train was run from Luton to Margate and Ramsgate at the beginning of the Vauxhall Motors holiday period.
NEW 4 X 4 FOR AUSTRALIA A DEVELOPMENT of the United In, States Army weapon carrier of the 1939-45* war, the Power Wagon, now going into production by Chrysler Australia, Ltd., is designed for the forester, miner, surveyor' and farmer. This short-chassis four-wheel-drive truck is powered by an engine developing 108 b.h.p. at 3,000 r.p.m., 'driving through a four-speed synchromesh gearbox and two-speed transfer box. The chassis provides asuitable mounting for a hydraulic lift, so that most three-point-linkage implements can be attached in about a minute. The power take-off unit controls the direction of rotation of a winch, and a rearmounted pulley drive can be used to operate circular saws, silo filters and other belt-driven machinery. It is claimed that the truck will climb any gradient on which wheel adhesion can be maintained.
The chassis and cab cost £2,495, plus £343 ls. ld. sales tax.
NEW COACH-AIR SERVICE 1-1. A COACH-AIR service with two 1,1 hour flights daily in each direction from Lympne Airport to Antwerp Airport, was inaugurated yesterday by Skyways, Ltd. It is being run for the benefit of visitors to the Brussels Exhibition, who may spend several hours there and return to Britain the same day. The tourist air fare is €12 18s. return, plus the coach fare in Belgium.
LONDON BUSES FOR BRADFORD BRADFORD is to buy 25 former London Transport buses at a net cost of £38,875. These 56-seaters will replace 27 of Bradford's wartime " austerity" vehicles, which will be taken in part exchange.., Modifying and repainting the London buses will cost about £125 each and it is, expected that they will have a useful working life of about 10 years.
MOBILE SHOP CONTROL?
CONTROL of mobile stioi3s operating Is-, in built-up areas with, a population of at least 1,000 was urged by the National Federation of Meat Traders' Associations at their conference at Scarborough on Tuesday.