Police Will Not Summon Farmers, say Hauliers
18th April 1958
Page 34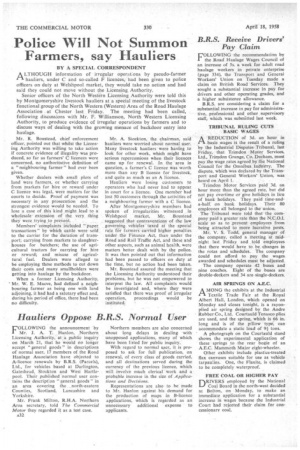 Page 34, 18th April 1958 —
Police Will Not Summon Farmers, say Hauliers
Close
BY A SPECIAL CORRESPONDENT LTHOUGH information of irregular opera:ons by pseudo-farmer hauliers, under C and so-called F licences, had been given to police officers on duty at Welshpool market, they would take no action and had said they could not move without the Licensing. Authority.
Senior officers of the North Western Licensing Authority were told this by Montgomeryshire livestock hauliers at a special meeting of the livestock functional group of the North Western (Western) Area of the Road Haulage Association . at Chester •last . Friday. The meeting had been called, following discussions with Mr. F. Williamson, North Western Licensing Authority, to produce evidence of irregular operations by farmers and to discuss ways of dealing with the growing Menace of backdoor entry into haulage.
Mr. R. Boustead, chief enforcement officer, pointed out that whilst the Licensing Authority was willing to take action if concrete evidence of illegality was produced, so far as farmers' C licences were concerned, no authoritative definition of a "neighbouring farmer " had ever been given.
Whether dealers with small plots of land were farmers, or whether carrying from markets for hire or reward under C licence was legal; were matters for the courts to decide. Proof of payment was necessary in any prosecution and the strongest evidence would be needed. To lose a case of this kind .might lead to a wholesale extension of the very thing
they were trying to prevent, .
Members' complaints included "Paper, transactions" by which cattle were sold to the carrier for the 'duration of transport; carrying from markets to slaughterhouses for butchers; the use of agricultural tractors for carrying for hire or reward; and misuse of agricultural fuel. Dealers were alleged to be employing these methods to cut down their costs and many smallholders were getting into haulage by the backdoor.
When a former Licensing Authority, ' Mr. W. E. Macve, had defined a neighbouring farmer as being one with land adjoining, it had had a salutary effect and, during his period of office, there had been no difficulty.
Mr. A. Stockton, the chairman, said hauliers were worried about normal user. Many livestock hauliers were having to look for other work, which might have serious repercussions when their licences came up for renewal. In the area in question, a farmer's C licence was worth more than any B licence for livestock, and quite as much as an A licence,
Hauliers were losing customers to operators who had never had to appear in court for a licence. One member had lost 50 customers through the activities of a neighbouring farmer with a C licence.
After Montgomeryshire members had spoken of irregularities witnessed in Welshpool market, Mr. Boustead suggested that contraventions of the law governing vehicles taxed at the special rate for farmers carried higher penalties under the Finance Act, than under the Road and Rail Traffic Act, and these and other aspects, such as animal health, were matters better dealt with by the police. It was then pointed out that information had been passed to officers on duty at the time, but no action had been taken.
Mr. Boustead assured the meeting that the Licensing Authority understood their problems, but he was not empowered to interpret the law. Al] complaints would be investigated and, where they were satisfied that there was proof of irregular operation, proceedings would be
instituted. •