Hauliers Oppose B.R.S. Normal User
18th April 1958
Page 34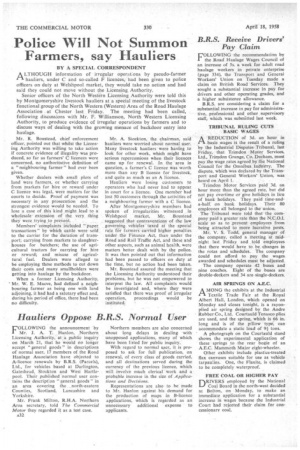 Page 34, 18th April 1958 —
Hauliers Oppose B.R.S. Normal User
Close
FOLLOWING the announcement by Mr. J. A. T. Hanlon, Northern Licensing Authority, at a public inquiry on March 21, that he would no longer accept "general goods " in descriptions of normal user, 17 members of the Road Haulage Association have objected to A-licence renewals by B.R.S. (Parcels), Ltd., for vehicles based at Darlington, Gateshead, Stockton and West Hartlepool. Their published normal user contains the description "general, goods" in an area covering the north-eastern Counties, Scotland, Lancashire and Yorkshire.
Mr. Frank Milton, R.11.A. Northern Area secretary, told The Commercial Motor they regarded it as a test ease.
A32
Northern members are also concerned about long delays in dealing with unopposed applications, many of which have been listed for public inquiry.
With regard to normal neer, it is proposed to ask for full publication, on renewal, of every class of goods carried, and all destinations served during the currency of the previous licence, which will involve much clerical 'Work and a probable increase in the size of Applications and Decisions.
Representations are also to he made to Mr. Hanlon against his demand for the production of maps in B-licence applications, which is regarded as an unnecessary additional expense to applicants.