B.R.S. Receive Drivers' Pay Claim
18th April 1958
Page 34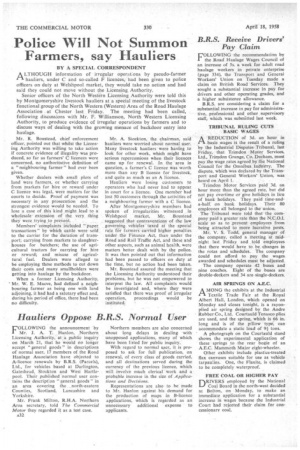 Page 34, 18th April 1958 —
B.R.S. Receive Drivers' Pay Claim
Close
FOLLOWING the recommendation by the Road Haulage Wages Council of an increase of 5s. a week for adult road haulage workers in private enterprise (page 334), the Transport and General Workers' Union on Tuesday made a claim on British Road • Services. They sought a substantial increase in pay for drivers and other operating grades, and a higher subsistence allowance. B.R.S. are considering a claim for a substantial increase in pay for administrative, professional and other supervisory staff, which was submitted last week.
TRIBUNAL RULING CUTS BASIC WAGES
A REDUCTION of 3d. an hour in
basic wages is the result of a ruling by the Industrial Disputes Tribunal, last Friday, that Trimdan Motor Services, Ltd., Trintdon Grange, Co. Durham, must pay the wage rates agreed by the National Council for the Omnibus lnehistry. The dispute, which was declared by the Transport and General Workers' Union, was heard on April 1.
Trimdon Motor Services paid 3d. an hour more than the agreed rate, but did not pay overtime or give holidays in lieu of bank holidays. They paid time-anda-half, on bank holidays. Their 80 employees all belonged to the union.
The Tribunal were told that the company paid a greater rate than the N.C.0.1. scale so as to ,prevent employees from being attracted to more lucrative posts.
Mr. V. S. Todd, general manager of the company, called a meeting at midnight last Friday and told employees that there would have to be changes in the rotas and schedules. The company could not afford to pay the wages awarded and schedules must be adjusted.
The company operate 42 buses and nine coaches. Eight of the buses are double-deckers and 34 are singIe-deckers.
AIR SPRINGS ON A.E.C.
AMONO the exhibits at the Industrial Textile Trade Fair at the Royal Albert Hall, London, which opened on Monday and closes tonight, is a rayonplied air spring designed by the Andre Rubber Co., Ltd. Courtauld Ten asco plies are used, and the spring, which is 66 in. long and is of the pillow type', can accommodate a static load of 9+ tons. ' A photograph on the Courtauld stand shows the experimental application of these springs to the rear bogie of an A.E.C. Mammoth Major eight-wheeler.
Other exhibits include plastics-treated flax canvases suitable for use as vehicle tarpaulins. One, the Flaxite, is claimed to be completely waterproof.
FREE COAL OR HIGHER PAY r1RIVERS employed by the National 1-.-/ Coal Board in the north-west decided at Bolton, on Monday, to make an immediate application for a substantial increase in wages because the Industrial Court had rejected their claim for concessionary coal.