Passing Comments
18th April 1958
Page 32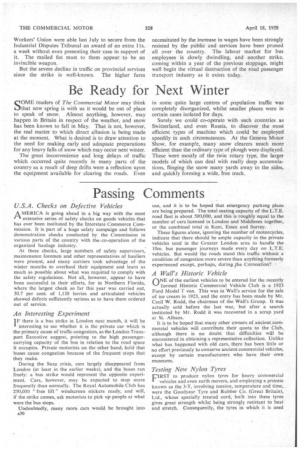 Page 33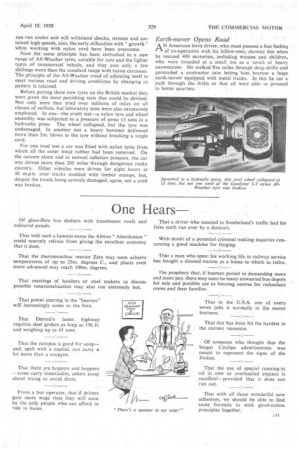 Page 32, 18th April 1958 —
Passing Comments
Close
U.S.A. Checks on Defective Vehicles
A MERICA is going ahead in a big way with the most
extensive series of safety checks on goods vehicles that has ever been instituted by the Interstate Commerce Commission. It is part of a huge safety campaign and follows demonstration checks conducted by the Commission in various parts of the country with the;co-operation of the organized haulage industry.
At these checks, large numbers of safety supervisors, maintenance foremen and other representatives of hauliers were present, and many carriers took advantage of the winter months to overhaul their equipment and learn as much as possible about what was required to comply with the safety regulations. Not all, however, appear. to have been successful in their efforts, for in Northern Florida, where the largest check so far this year was carried out, 30.7 per cent. of 1,13g lorries and articulated vehicles showed defects sufficiently serious as to have them ordered out of service.
An interesting Experiment
IF there is a bus strike in London next month, it will be I interesting to see whether it is the private car which is the primary cause of traffic congestion, as the London Transport Executive suggest, pointing to the high passenger. carrying capacity of the bus in •relation to the road space it occupies. Private motorists on the other hand, hold that buses cause congestion because of the frequent stops that they make.
During the Suez crisis, cars largely disappeared from London (at least in the earlier weeks), and the buses ran freely: a bus strike would represent the opposite experiment. Cars, however, may be expected to stop more frequently than normally. The Royal Automobile Club has 250,000 "free lift" windscreen stickers ready. and will, if the strike comes, ask motorists to pick up people at what were the bus stops.
Undoubtedly, many more cars would be brought into A30
use, and it is to be hoped that emergency parking plans are being prepared. The total seating capacity of the L.T.E. road fleet is about 500,000, and this is roughly equal to the number of cars licensed in London and Middlesex together, or the combined total in Kent, Essex and Surrey.
These figures alone, ignoring the number of motorcycles, indicate that there should be ample capacity in the private vehicles used in the Greater London area to handle the 10m. bus passenger journeys made every day on L.T.E. vehicles, But would the roads stand this traffic without a condition of congestion more severe than anything formerly experienced except, perhaps, during the Coronation?
A Wall's Historic Vehicle
riNE of the earliest vehicles to be entered for the recently
formed Historic Commercial Vehicle Club is a 1923 Ford Model T van. This was in Wall's service for the sale of ice cream in 1923, and the entry has been made by Mr. Cecil W. Rodd, the chairman of the Wall's Group. It Was actually sold before the last war, but after a search instituted by Mr. Rodd it was recovered in a scrap yard at St. Albans.
It is to be hoped that many other owners of ancient commercial vehicles will contribute their quota to the Club, although there is no doubt that difficulties will be encountered in obtaining a representative collection. Unlike what has .happened with old cars,. there has been little or no effort previously to.conserve ancient. commercial vehicles, except by certain manufacturers who have their own museums.
Testing New Nylon Tyres
FIRST to produce nylon tyres for heavy commercial I vehicles and even earth movers, and employing a process known as the 3-T, involving tension, temperature and time, were the Goodyear Tyre and Rubber Co. (Great Britain), Ltd., whose specially treated cord, built into these tyres gives great strength whilst being strongly resistant to heat and stretch. Consequently, the tyres in which it is used
can run cooler and will withstand shocks, stresses and sustained high speeds, also, the early difficulties with " growth " when working with nylon cord have been overcome.
Now the same principle has been embodied in a new range of AR-Weather tyres, suitable for cars and the lighter typ-zs of commercial vehicle, and they cost only a few shillings more than the standard range with rayon carcasses. The principle of the All-Weather tread of adjusting itself to meet various road and driving conditions by changing its pattern is retained.'
Before putting these new tyres on the British market they were given the most punishing tests that could be devised. Not only were they tried over millions of miles on all classes of surface, but laboratory tests were also extensively employed. In one—the crush test—a nylon tyre and wheel assembly was subjected to a pressure of some 13 tons in a hydraulic press. The wheel collapsed, but the tyre was undamaged. In another test a heavy hammer delivered more than 2m. blows to the tyre without breaking a single cord.
For one road test a car was fitted with nylon tyres from which all the outer tread rubber had been removed. On the carcass alone and at normal inflation pressure, the car was driven more than 200 miles through dangerous rocky country. Other vehicles were driven for eight hours at 30 m.p.h. over tracks studded with timber stumps, but, despite the treads being severely damaged, again, not a cord was broken.
Earth-mover Opens Road
A N American lorry driver, who must possess a fine feeling
of co-operation with his fellow-men, showed this when he rescued 400 motorists, including women and children, who were stranded at a small inn as a result of heavy snowstorms. He walked five miles through deep drifts and persuaded a contractor into letting him borrow a huge earth-mover equipped with metal tracks. In this he cut a path through the drifts so that all were able to proceed to better quarters.