One Hears-
18th April 1958
Page 33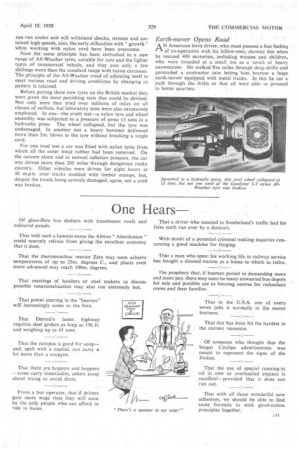 Page 33, 18th April 1958 —
One Hears-
Close
Of glass-fibre bus shelters with translucent roofs and coloured panels.
That with such a famous name the Albion " Aberdonian " could scarcely refrain from giving the excellent economy that it does. __ That the thermonuclear reactor Zeta may soon achieve temperatures of up to 25m. degrees C, and plants even more advanced may reach 100m. degrees.
That meetings of hauliers or steel makers to discuss possible renationalization may also run extremely hot.
That power steering in the "heavies" will increasingly come to the fore.
That Detroit's latest highway requires steel girders as long as 156 ft. and weighing up to 45 tons.
That the octopus is good for soup— and, spelt with a capital, can carry a lot more than a soupgon.
That there are hoppers and hoppers —some carry insecticides, others jump about trying to avoid them, From a bus operator, that if drivers gain more wage rises they will soon be the only people who can afford to ride in buses. That a driver who sneezed in Sunderland's traffic had his false teeth run over by a dustcart.
With doubt of a potential criminal making inquiries concerning a good machine for forging.
That a man who spent his working life in railway service has bought a disused station as a home to which to retire.. — The prophecy that, if busmen persist in damanding more and more pay, there may soon be many unwanted bus depots for sale and possible use as housing centres for redundant crews and their families, That in the U.S.A. one of every seven jobs is normally in the motor business.
That this has been hit the hardest in the current recession.
Of someone who thought that the Seegar Circlips advertisement was meant to represent the signs of the Zodiac.
That the use of special running-in oil in new or overhauled engines is excellent—provided that it does not run out.
That with all those wonderful new adhesives, we should be able to find some formula to stick good-nation principles together.