Be Ready for Next Winter
18th April 1958
Page 32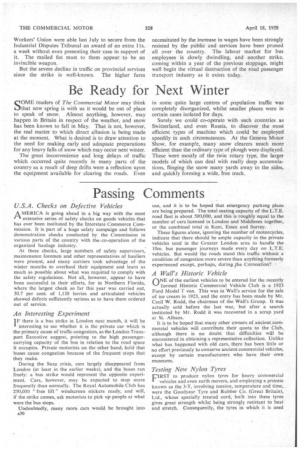 Page 32, 18th April 1958 —
Be Ready for Next Winter
Close
SCOME readers of The Commercial Motor may think that now spring is with us it would be out of place to speak of snow. Almost anything, however, may .happen in Britain in respect of the weather, and snow has been known to fall in May. That is not, however, the real matter to which direct allusion is being made at the moment. What is desired is to draw attention to the need for making early and adequate preparations for any heavy falls of snow which may occur next winter.
The great inconvenience and long delays of traffic which occurred quite recently in many parts of the country as a result of deep drifts were a reflection upon the equipment available for clearing the roads. Even in some quite large centres of population traffic was completely disorganized, whilst smaller places were in certain cases isolated for days.
Surely we could co-operate with such countries as Switzerland, and even Russia, to discover the most efficient types of machine which could be employed speedily in such circumstances. At the Geneva Motor Show, for example, many snow clearers much more efficient than the ordinary type of plough were displayed. These were mostly of the twin rotary type, the larger models of which can deal with really deep accumulations, flinging the snow many yards away to the sides, and quickly forming a wide, free track.