January 31
16th November 1985
Page 8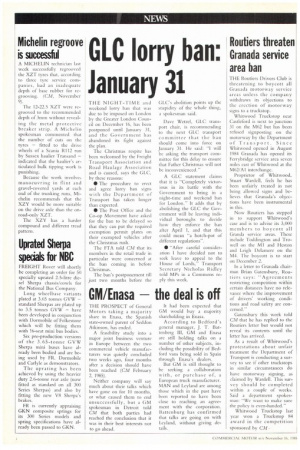 Page 8, 16th November 1985 —
January 31
Close
THE NIGHT-TIME and weekend lorry ban that was due to be imposed on London by the Greater London Council on December 16, has been postponed until January 31, and the Government has abandoned its fight against the plan.
The Christmas respite has been welcomed by the Freight Transport Association and Road Haulage Association and is caused, says the GLC, by these reasons: • The procedure to erect and agree lorry ban signs with the Department of Transport has taken longer than expected.
• The Post Office and the Co-op Movement have asked for the ban to be delayed so that they can put the required exemption permit plates on their exempted vehicles after the Christmas rush.
The ETA told CM that its members in the retail trade in particular were concerned at the ban coming in before Christmas.
The ban's postponement till just two months before the GLC's abolition points up the stupidity of the whole thing, a spokesman said.
Dave Wetzel, GLC transport chair, is recommending to the next GLC transport committee that the ban should come into force on January 31. He said: "I will be asking the transport committee for this delay to ensure that Father Christmas will not be inconvenienced."
A GLC statement claims that it is "Completely victorious in its battle with the Government to bring in a night-time and weekend ban for London." It adds that by abolishing the GLC the Government will be leaving individual boroughs to decide how they enforce the ban alter April 1, and that this could mean "a botch-pot of different regulations".
• "After careful consideration I have decided not to seek leave to appeal to the House of Lords," Transport Secretary Nicholas Ridley told MPs in a Commons reply this week.