• Routiers threaten Granada service area ban
16th November 1985
Page 8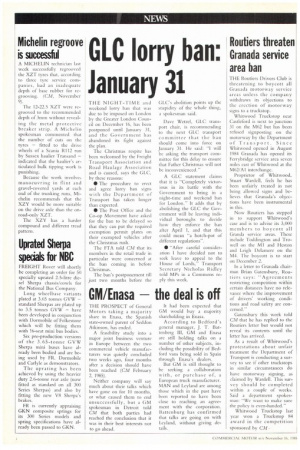 Page 8, 16th November 1985 —
• Routiers threaten Granada service area ban
Close
THE Routiers Drivers Club is threatening to boycott all Granada motorway service areas unless the company withdraws its objections to the erection of motorway signs to a truckstop.
Whitwood Truckstop near Castieford is next to junction 31 on the M62 but has been refused signposting on the motorway by the Department of Transport. Since Whitwood opened in August 1984 Granada has opened its Ferrybridge service area seven miles east of Whitwood at the M62/A l interchange. Proprietor of Whitwood, Stuart Wardell, feels he has been unfairly treated in not being allowed signs and believes that Granada's objections have been instrumental in this.
Now Routiers has stepped in to support Whitwood's case and is to advise its 3,000 members to boycott all Granda service areas. These
include Toddington and Trowell on the MI and Heston. and Leigh Delatnerc on the M4. The boycott is to start on December 2.
In a letter to Granada chairman Brian Gatensbury, Rou tiers says: "Agreements restricting competition within certain distances have no rele vance where the improvement of drivers' working conditions and road safety are concerned."
Gatensbury this week told CM that he has replied to the Routiers letter but would not reveal its contents until the letter has arrived.
As a result of Whitwood's protestations about unfair treatment the
.epartment of Transport is conducting a survey to see if other truckstops in similar circumstances do have motorway signing, as claimed by Wardell. This survey should be completed within a couple of weeks. Said a department spokesman: "We want to make sure the policy is even-handed."
Whitwood Truckstop last year won a Truckstop 84 award in the competition
sponsored by CM •