MADE-IN-SCOTLAND DEREG FORMULA
16th November 1985
Page 67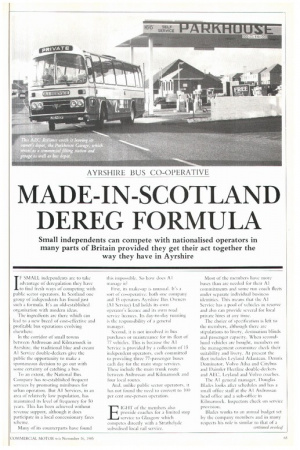 Page 68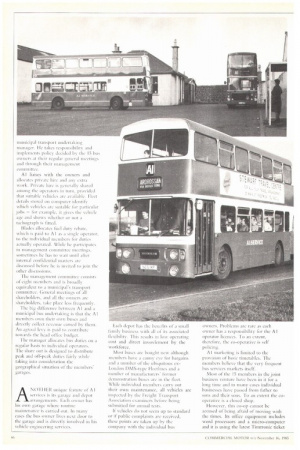 Page 69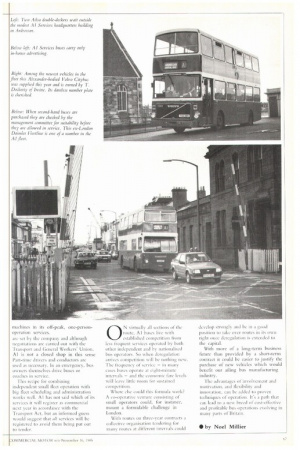 Page 67, 16th November 1985 —
MADE-IN-SCOTLAND DEREG FORMULA
Close
Small independents can compete with nationalised operators in many parts of Britain provided they get their act together the way they have in Ayrshire
IF SMALL independents are to take advantage of deregulation they have to find fresh ways of competing with public sector operators. In Scotland one group of independents has found just such a formula. It's an old-established organisation with modern ideas.
The ingredients are thete which can lead to a new breed of cost-effective and profitable bus operations evolving elsewhere.
In the corridor of small towns between Ardrossan -and Kilmarnock in Ayrshire, the traditional blue and cream A I Service double-deckers give the public the opportunity to make a spontaneous decision to go out with sonic_ certainty of catching a bus.
To an extent, the National Bus Company has re-established frequent services by promoting minibuses for urban operation. But Al Services, in an area of relatively low population, has maintained its level of frequency for 50 years. This has been achieved without revenue support, although it does participate in :a local concessionary fares scheme.
Many of its counterparts have found this i:npossible. So how does Al manage it
First, its make-up is unusual. It's a sort of co-operative: both one company and 15 operators Ayrshire Bus Owners (Al Service) Ltd holds its own operator's licence and its own road service licences. Its day-to-day running is the responsibility of a general
nianager.
Second, it is not involved in bus purchases or maintenance for its fleet of 77 vehicles. This is because the Al Service is provided by a collection of 15 independent operators, each (A MI mi tted to providing three 77-passenger buses each day for the main stage services. These include the main trunk route between Ardrossan and Kilmarnock and tour local routes.
And, unlike public sector operators, it has not found the need to convert to 1110 per cent one-person operation.
E!GI IT of the members also provide coaches for a limited stop service to Glasgow which competes directly with a Strathclyde subsidised local rail service. Most of the members have more buses than are needed for their Al commitments and sonic run coach fleets under separate individual business identities. This means that the Al Service has a pool of vehicles in reserve and also can provide several for local private hires at any time.
The choice of specification is left to the members, although there are stipulations to livery, destination blinds and passenger capacity. When secondhand vehicles are bought, members on the management committee check their suitability and livery. At present the fleet includes Leyland Atlantean. Dennis Dominator, Volvo Ailsa and Citylms and Daimler Fleetline double-deckers and AEC, Leyland and Volvo coaches.
The AI general manager. Douglas Blades looks after schedules and has a small office staff at the Al Ardrossan head office and a sub-office in Kilmarnock. Inspectors check on service provision.
Blades works to an annual budget set by the company members and in many respects his role is similar to that of a
municipal transport undertaking manager. He takes responsibility and implements policy decided by the 15 bus °sellers at their regular general meetings and through their management committee.
Al liaises with the owners and allocates private hire and any extra work. Private hire is generally shared among the operators in turn, provided that suitable vehicles are available. Fleet details stored on computer identify which vehicles are suitable fOr particular jobs — for example. it gives the vehicle age and shows whether or nor a tachograph is fitted.
Blades allocates fuel duty rebate. which is paid to AI as a single operator. to the individual members for duties actually operated. While he participates in management committee meetings. sometimes he has to wait until after internal confidential 'natters are discussed bet-Ore he is invited to join the other discussions.
The management committee consists of eight members and is broadly equivalent to a municipal's transport committee. General meetings of all shareholders, and all the owners :ire shareholders, take place less frequently.
The big difference between AI and a municipal bus undertaking is that the A I members own their own buses and directly collect revenue earned by them. An agreed levy is paid to contribute towards the head office budget.
The manager allocates bus duties On a regular basis to individual operators. The share out is designed to distribute peak and off-peak duties fairly while taking into consideration the
geographical situation of the members' ,garages.
ANO.THER unique feature of Al services is its garage and depot ,irrangements. Each ()skater has his own garage where routine maintallance is carried out. In many cases the bus owner lives next door to the garage and is directly involved in his vehicle engineering services. Each depot has the benefits of a small family business with all of its associated flexibility.rl'his results in low operating cost and direct invovlement by the workforce.
Most buses are bought new although members have a canny eye for bargains and A number of the ubiquitous exLondon DMS-type Hectlines and a number of manuficturers. former demonstration buses are in die fleet. While individual inc..mbers carry out their own maintenance. all vehicles arc inspected by the Freight Transport Association examiners betnre being submitted for annual tests.
If vehicles do not seem up to standard or if public complaints Are received, these points arc taken up by the company with the individual bus owners. Problems are rare AS each owner has a responsibility for the Al operator licences. To an extent,
therefore, the co-operative is self policing.
Al marketing is limited to the provision of basic timetables. The members believe that the very frequent bus services markets itself Most of the 15 members in the joint business venture have been in it for a long time and in many cases individual businesses have passed from father to sons and their sons. To an extent the cooperative is a closed shop.
However, this co-op cannot be accused of being afraid of moving with the times. Its office equipment includes word processors and a micro-computer and it is using the latest Timtronic ticket machines in its off-peak, one-personoperation services.
ire set by the company and although negotiations are carried out with the Transport and General Workers Union, Al is not a closed shop in this sense Part-time drivers and conductors are used as necessary. In an emergency, bus owners themselves drive buses or coaches in service.
This recipe for combining
independent small fleet operation with big fleet scheduling and administration works well. AI has not said which of its services it will register as commercial next year in accordance with the Transport Act, but an informed guess would suggest that all services will be registered to avoid them being put our to tender. 0 N virtually all sections of the route, A I buses live with established competition from less frequent services operated by both other independent and by nationalised bus operators. So when deregulation arrives competition will be nothing new. The frequency of service — in many cases buses operate ar eight-minute intervals — and the econoinic fare levels will leave little room for sustained competition.
Where else could this limnola work? A co-c.iperative venture cumsisting of small operators could, for instance, mount a formidable challenge in London.
With routes on three-year contracts a collective organisation tendering for many routes at different intervals could
develop strongly and be in a good position to take over routes in its own right once deregulation is extended to the capital.
With more of a long-term business future than provided by a short-term contract it could be easier to justify the purchase of new vehicles which would benefit our ailing bus manufacturing industry.
The advantages of involvement and motivation. and flexibility and innovation, can be added to proven techniques of operation it's a path that can lead to a new breed of cost-effective and profitable bus operations evolving in many parts of Britain.