AFTER THE OIL BOOM
16th November 1985
Page 63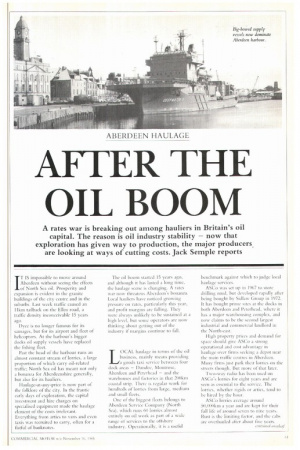 Page 64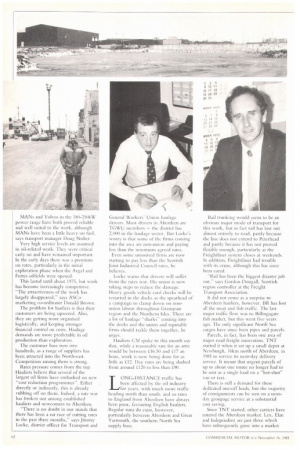 Page 65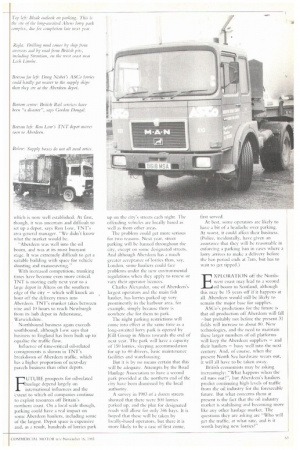 Page 63, 16th November 1985 —
AFTER THE OIL BOOM
Close
A rates war is breaking out among hauliers in Britain's oil capital. The reason is oil industry stability — now that exploration has given way to production, the major producers. are looking at ways of cutting costs. Jack Semple reports IT IS impossible to move around Aberdeen without seeing the effects of North Sea oil. Prosperity and expansion is evident in the granite buildings of the city centre and in the suburbs. Last week traffic caused an I I km tailback on the Ellen road, a traffic density inconceivable 15 years ago.
Dyce is no longer famous for its sausages, but for its airport and fleet of helicoptors. At the harbour's bigger docks oil supply vessels have replaced the fishing fleet.
Past the head of the harbour runs an almost constant stream of lorries, a large proportion of which carry oil-related traffic; North Sea oil has meant not only a bonanza for Aberdeenshire generally, but also for its hauliers. .
I laulage-at-any-price is now part of the folklore of the city. In the frantic early days of exploration, the capital investment and hire charges on specialised equipment made the haulage element of the costs irrelevant. Everything from attics to vans and even taxis was recruited to carry, often for a fistful of banknotes.
The oil boom started 15 years ago, and although it has lasted a long time, the haulage scene is changing. A rates war now threatens Aberdeen's bonanza. Local hauliers have noticed growing pressure on rates, particularly this year, and profit marginS are falling. They were always unlikely to be sustained at a high level, but some operators are now thinking about getting out of the industry if margins continue to fall.
L()CAl.. haulage in terms of the oil business, mainly means providing a goods taxi service between four dock areas — Dundee, Montrose, Aberdeen and Peterhead — and the warehouses and factories in that 2INIkni coastal strip. There is regular work for hundreds of lorries from large, meditnn and small fleets.
One of the biggest fleets belongs Co Aberdeen Service Company (North Sea), which nu is 60 lorries almost entirely on oil work as part of a wide range of services to the offshore industry. Operationally, it is a lltid1.11 benchmark against which to judge local haulage services.
ASCo i'as set up in 1967 to store drilling mud, but developed rapidly after being bought by Sidlaw Group in 1972. It has bought prime sites at the docks in both Aberdeen and Peterhead, where it has a major warehousing complex, and now claims to be the second largest industrial and commercial landlord in the North-east.
High property prices and demand for space should give AS( o a strong operational and cost advantage in haulage over firms seeking a depot near the main traffic centres in Aberdeen. Many firms just park their lorries on the streets though. Rut more of that later.
Two-way radio has been used on AS( o's lorries for eight years and are seen as essential to the service. The lorries, whether rigids or artics, tend to be hired by the hour.
AS( o lorries average around 50,000km a year and are kept for their full life of around seven to nine years. Rust is the limiting factor, imid the cabs are overhauled after about five years. MANs and Volvos in the 180-210kW power range have both proved reliable and well suited to the work, although MANs have been a little heavy on fuel, says transport manager Doug Nisbet.
Very high service levels are assumed in oil-related work. They were critical early on and have remained important. In the early days there was a premium on rates, particularly in the initial exploration phase when the Argyl and Fortes oilfields were opened.
This lasted until about 1975, but work has become increasingly competitive. "The attractiveness of the work has largely disappeared," says ASCo marketing co-ordinator Donald Brown.
The problem for hauliers is that their customers are being squeezed. Also. they are getting more organised logistically, and keeping stronger financial control on costs. Haulage demands are more predictable in oil production than exploration.
The customer base runs into hundreds, as a range of suppliers has been attracted into the North-cast. Competition among them is strong.
Rates pressure conies from the top. Hauliers believe that several of the largest oil firms have embarked on new "cost reduction programmes". Either directly or indirectly, this is already rubbing off on them. Indeed, a rate war has broken out among established hauliers and newcomers to Aberdeen.
"There is no doubt in our minds that there has been a rat race of cutting rates in the past three months," says Jimmy Locke, district officer for Transport and General Workers Union haulage drivers. Most drivers in Aberdeen are TGWU members — the district has 2,000 in the haulage sector. But Locke's worry is that some of the firms coming into the area are non-union and paying less than the minimum agreed rates. Even some unionised firms are now starting to pay less than the Scottish Joint Industrial Council rates, he believes.
Locke warns that drivers will suffer from the rates war. I In 1.111i011 is 110W taking steps to reduce the damage. Heavy goods vehicle card checks will be restarted in the docks as the spearhead of a campaign to clamp down on nonunion labour throughout Grampian region and the Northern Isles. There are a lot of haulage "sharks" coming into the docks and the union and reputable firms should tackle them together, he urges.
Hauliers CM spoke to this month say that, while a reasonable rate for an artic would be between S:16.50 and 5:17 an hour, work is now being done for as little as £12. Day rates are being slashed from around 1:120 to less than 1:90.
LONG-D1STANCE traffic has been affected by the oil industry for years. with much more traffic heading north than south, and so rates to England from Aberdeen have always been poor, favouring English hauliers. Regular runs do exist, however, particularly between Aberdeen and Great Yarmouth, the southern North Sea supply base,
Rail trunking would seem to be an obvious major mode of transport for this work, but in fact rail has lost out almost entirely to road, partly because the line does not extend to Peterhead and partly because it has not proved flexible enough, particularly as the Freightliner system closes at weekends. In addition, Freightliner had trouble with its crane, although this has since been cured.
"Rail has been the biggest disaster job out," says Gordon Dougall, Scottish region controller at the Freight Transport Association.
It did not come as a surprise to Aberdeen hauliers, however. BR has lost all the meat and fish traffic. The last major traffic flow was to Billingsgate fish market, but this went five years ago. The only significant North Sea cargos have since been pipes and parcels.
Parcels, in fact, has been one area of major road freight innovation. TNT started it when it set up a small depot at Newburgh, 16km north of Aberdeen, in 1981 to service its next-day delivery service. It meant that urgent parcels of up to about one tonne no longer had to be sent as a single load on a "hot-shotvan or taxi.
There is still a demand for these dedicated one-off loads, but the majority of consignments can be sent on a nextday groupage service at a substantial cost saving.
Since TNT started, other carriers have entered the Aberdeen market. Lex, Elan and Independent are just three which have subsequently gone into a market
which is now well established. At first, though, it was uncertain and difficult to set up a depot, says Ron Low, TNT's area general manager. "We didn't know what the market would be.
'Aberdeen was well into the oil boom, and was at its most buoyant stage. It was extremely difficult to get a suitable building with space or vehicle shunting and manoeuvring."
With increased coMpetition, markingtimes have become even inure critical. TNT is moving early next year to a large depot in Altens on the southern edge of the city — which will knock an hour off the delivery times into Aberdeen. TNT's trinket takes between nine and 10 hours to reach Newburgh from its hub depot in Atherstone, Warwickshire.
Northbound business again exceeds southbound, although low says that business to England has been built up to equalise the traffic flow.
Influence of time-critical oil-related consignments is shown in TNT's. breakdown of Aberdeen traffic, which has a higher proportion of next-day parcels business than other depots.
FUTURE prospects for oil-related haulage depend largely on international influences and the -extent to which oil companies continue to exploit resources off Britain's northern coast. On a local scale though, parking could have a real impact on some Aberdeen hauliers, including some of the largest. Depot space is expensive and, as a result, hundreds of lorries park
up on the city's streets each night. The offending vehicles arc locally based as well as from other areas.
The problem could get more serious for two reasons. Next year, street parking will be banned throughout the city, except on sonic designated streets. And although Aberdeen has a much greater acceptance of lorries than, say, London, sonic hauliers could face problems under the new environmental regulations when they apply to renew or vary their operator licences,
Charles Alexander, one of Aberdeen's largest operators :Ind the main fish haulier, has lorries parked up very prominently in the harbour area, for example, simply because there is nowhere else for diem to park.
The night parking restrictions will come into effect at the same time as a long-awaited lorry park is opened by JGB Group in Altens towards the end of next year. The park will have a capacity of 150 lorries, sleeping accommodation for up to 40 drivers, basic maintenance facilities and warehousing.
But it is by no means certain that this will be adequate. Attempts by the Road Haulage Association to have a second park provided at the northern end of the city have been dismissed by the local authority.
A survey in 1983 of a dozen streets showed that there were 500 lorries parked up, and the plan for designated roads will allow for only 346 bays. It is hoped that these will be taken by locally-based operators, but there it is more likely to be a case of first come, first served.
At best. some operators are likely to have a bit of a headache over parking. At worst, it could affect their business.
(Police, in have given an assurance that they will be reasonable in enforcing a parking ban in cases where a lorry arrives to make a delivery before the ban period ends at 7am, hut has to wait to get tipped.)
XPLORA11ON off the North west coast may lead to a second oil boom in Scotland, although this may be 15 years off if it happens at Aberdeen would still be likely to remain the major base for supplies.
ASCo's predictions for the future is that oil production off Aberdeen will fall —but probably not before the present 31 fields will increase to about 80. New technologies, and the need to maintain these larger 111.3IllberS of oil platforms will keep the Aberdeen suppliers — and their hauliers — busy well into the next century. And, of course, when the present North Sea hardware wears out, it will all have to be taken away.
British economists may he asking increasingly: -1X/hat happens when the oil runs out?", but Aberdeen's hauliers predict continuing high levels of traffic from die oil industry for the foreseeable future. But what concerns them at present is die fact that the oil industry market is stabilising and becoming, more like any other haulage market. The questions they are asking are "Who will get the traffic, at what rate, and is it worth buying new lorries?"