Channel fixed link arguments continue
16th November 1985
Page 6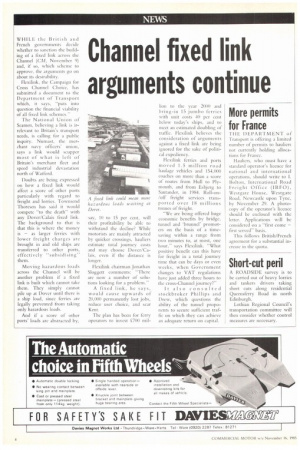 Page 6, 16th November 1985 —
Channel fixed link arguments continue
Close
WHILE the British and French governments decide whether to sanction the building of a fixed link across the Channel (CM, November 9) and, if so, which scheme to approve, the arguments go on about its desirability.
Flexilink, the Campaign for Cross Channel Choice, has
submitted a document to the Department of Transport which, it says, "puts into question the financial viability of all fixed link schemes."
The National Union of Seamen, believing a link is ir relevant to Britain's transport needs, is calling for a public inquiry. Nurnast, the mer chant navy officers' union, says a link would scupper most of what is left of Britain's merchant fleet and speed industrial devastation north of Watford.
Doubts are being expressed on how a fixed link would affect a score of other ports particularly with regard to freight and lorries. Townsend Thorescn has said it would
compete -to the death" with any Dover/Calais fixed link.
The background to that is that this is where the money is as larger ferries with lower freight charges are brought in and old ships are transferred to other ports, effectively "subsidising' them.
Moving hazardous loads across the Channel will be
another problem ita fixed
link is built which cannot take them. They simply cannot pile up at Dover until there is a ship load, since ferries are legally prevented from taking only hazardous loads.
And if a score of other ports' loads are abstracted by, say, 10 to 15 per cent, will their profitability be able to withstand the decline? While motorists are mainly attracted by quicker crossings, hauliers estimate total journey costs and may choose Dover/Calais, even if the distance is longer.
Flexilink chairman Jonathan Slogger( comments: "There are now a number of solutions looking for a problem."
A fixed link, he says, would cause upwards of 20,000 permanently lost jobs, reduce user choice, and scar Kent.
The plan has been for ferry operators to invest 1:700 mil lion to the year 2000 and bring-in 15 jumbo ferries with unit costs 40 per cent below today's ships, and to meet an estimated doubling of traffic. Flexilink believes the consideration of arguments against a fixed link are being ignored for the sake of political expediency.
Flexilink ferries and ports moved 1.5 million road haulage vehicles and 154,000 coaches on more than a score of routes from Hull to Plymouth, and from Esbjerg to Santander, in 1984. Roll-on/off freight services transported over 18 millions tonnes of freight.
"We are being offered huge economic benefits by bridge, tunnel and 'brunnel' promoters on the basis of a timesaving within a range from two minutes to, at most, one hour," says Flexilink. "What positive benefit can this have for freight in a total journey time that can be days or even weeks, when Government changes to VAT regulations have just added three hours to the cross-Channel journey?"
It also consulted stockbroker Phillips and Drew, which questions the ability of the tunnel proponents to secure sufficient traffic on which they can achieve an adequate return on capital.