N kv ER MINI) about the longstanding presence Citroen has m
16th November 1985
Page 56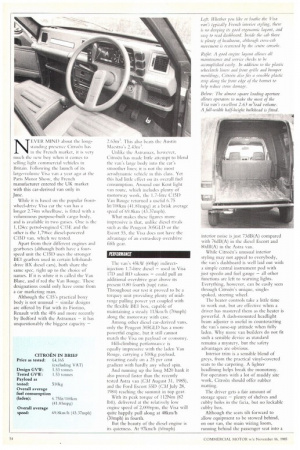 Page 57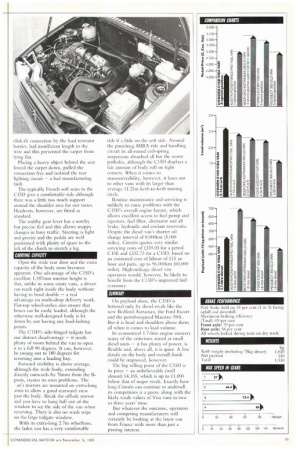 Page 56, 16th November 1985 —
N kv ER MINI) about the longstanding presence Citroen has m
Close
Keywords :
Hatchbacks
,
Sedans
,
Vans
,
Compact Cars
,
Station Wagons
,
Austin Maestro
,
Ford Escort
,
Peugeot 305
,
Diesel Engine
,
Citroën Visa
,
Ford Transit
the French marker, it is very much die new boy when it comes to selling light commercial vehicles in Britain. Following the launch of its large-volume Visa van a year ago at the Paris Motor Show, the French manufacturer entered the UK market with this car-derived van only in June.
While it is based on the popular frontwheel-drive Visa car the Vail has a longer 2.74m wheelbase, is fitted with a voluminous purpose-built cargo body, and is available in two guises. One is the 1,124cc petrol-engined CI 5E and the other is the 1,796cc diesel-powered C151) van, which we tested.
Apart from their different engines and gearboxes (although both have a fourspeed unit the C151) uses the stronger BE1 gearbox used in certain left-handdrive BX diesel cars), both share the same spec, right up to the choice of names. If it is white it is called die Van Blanc, and if red the Van Rouge. These designations could only have come from a car marketing man.
Although the C15's practical boxy body is not unusual — similar designs are offered by Fiat with its Fiorillo. Renault with the 4F6 and more recently by Bedford with the Astramax — it has unquestionably the biggest capacity —
2.63nr. -Fhis ids° beats the Austin Maestro's 2.43ne.
Unlike the Astramax, however, Citroen has made little attempt TO blend the van's large body into the car's smoother lines; it is not the most aerodynamicvehicle in this class. Yet this had little effect on its overall fuel consumption. Around our Kent light van route, which includes plenty of motorway work, die 1.7-litre CI51) Van Rouge returned a useful 6.75 lit/IIM/km (41.81mpg) at a brisk average speed of (i9.8kni (43.37mph).
What makes these figures more impressive is that, unlike diesel rivals such as the Peugeot 305GLI) or the Escort 55, the Visa does not have the advantage of an extra-deep overdrive OttliLtear.
PERFORME
lie vans 45kW (6(J1m) indirectinjection 1.7-litre diesel — used in Visa 171) and RD saloons — could pull an additional overdrive gear above its present 0.80 fourth (top) ratio. Throughout our test it proved to be a torquey unit providing plenty of midrange pulling power yet coupled with the flexible BEI box, capable of maintaining a steady 113km/h (70mph) along the motorway with ease.
Among other diesel car-derived vans, only the Peugeot 305GLI) has a more powerful engine, but it still cannot match the Visa on payload or economy.
performance is equally impressive with the laden Van Rouge, carrying a 510kg payload, restarting easily on a 25 per cent gradient with hardly any wheel spin.
And running up the long M20 bank it also proved faster than the recently tested Astra van (CM August 31, 1985), and the Ford Escort 5513 (CM July 28, 1984) reaching the summit in top gear.
With its peak torque of 112Nm (82 lbft), delivered it the relatively low engine speed of 2,000rpm, the Visa will quite happily pull along at 48km/h (30mph) in fourth.
But the beauty of the diesel engine is its quietness. At 97km/h (6(lmph) interior noise is just 73dB(A) compared with 76dB(A) in the diesel Escort and 80dB(A) in the Astra van.
While Citroen's unusual interior styling may not appeal to everybody, the van's dashboard is well laid out with a simple central instrument pod with just speedo and fuel gauge — all other functions are left to warning lights. Everything, however, can he easily seen through Citroen's unique, singlespoked, steering wheel.
The heater controls take 2 little time to work out, but are effective when a driver has mastered theni as the heater is powerful. A dash-mounted headlight beam adjuster is useful in counteracting the van's nose-up attitude when fully laden. Why more van builders do not fit such a sensible device as standard remains a mystery, but the safety advantages are obvious.
Interior trim is a sensible blend of greys, from the practical vinyl-covered seats to the carpeting. A lighter headliMng helps break the monotony. For operators with a lot of muddy site work, Citroen should offer rubber matting.
The driver gets a fair amount of storage space — plenty of shelves and cubby holes in the facia, but no lockable cubby box.
Although the seats tilt forward to allow equipment to be stowed behind, on our van, the main wiring loom, running behind the passenger seat into a
click-tit connection by the load restraint barrier, had insufficient length in the wire and this prevented the carpet from lying flat.
Placing a heavy object behind the seat forced the carpet down, pulled the connection free and isolated the rear lighting circuit a bad manufacturing fault.
The typically French soft seats in the C151) give a comfortable ride although there was a little too much support around the shoulder area for our tastes. Headrests, however, are fitted as standard.
The stubby gear lever has a nuttily but precise feel and this allows snappy changes in busy traffic. Steering is light and precise and the pedals are well positioned with plenty of space to the left of the clutch to stretch a kg.
CARRYINC CAPACITY Open the wide rear door and the extra capacity of the body soon becomes apparent. One advantage of the C15D's excellent 1,187mm interior height is that, unlike in some estate vans, a driver can reach right inside the body without having to bend double a real advantage on multi-drop delivery work. Flat-top wheel-arches also ensure that boxes can be easily loaded, although the otherwise well-designed body is let down by not having any load-lashing points.
The C15D's side-hinged tailgate has one distinct disadvantage it needs plenty of room behind the van to open it to a full 90 degrees. It can, however, be swung out to 180 degrees for reversing into a loading bay.
Forward visibility is above average, although the wide body, extending directly outwards by 76mm from the Bposts, creates its own problems. The
an's mirrors are mounted on extra-long arms to allow a good rearward view past the body. Break the oflist.le mirror and you have to hang half-out of the window to see the side of the van when reversing. There is also no wash wipe on the large tailgate window.
With its extra-long 2.7m wheelbase, the laden van has a very comfortable
ride if a little on the soft side. Around the punishing MIRA ride and handling circuit its all-round toil-spring suspension absorbed all but the worst potholes, although the C151) displays a lair amount of body roll on tight corners. When it comes to manoeuvrability, however, it loses out to other vans with its larger than average 11.21 m kerb-to-kerb turning circle.
Routine maintenance and servicing is unlikely to cause problems with the C151)'s overall engine layout, which allows excellent access to fuel pump and injectors, fuel filter, alternator and all brake, hydraulic and coolant reservoirs. Despite the diesel van's shorter oil change interval of 8,000km (5.0)0 miles), Citroat quotes very similar servicing costs of 039.03 for a petrol C15E and 032.73 for a Cl5D, based on an estimated cost of labour of i:15 an hour and parts, up to 96,000km (60,(100 miles). High-mileage diesel van Operators would, however, be likely to benefit from the C15D's improved fuel economy.
SUMMARY
On payload alone, the C15D.is bettered Only by diesel rivals like the new Bedford Astramax, the Ford Escort and the petrol-engined Maestro 7001... But it is head and shoulders above them all when it comes to load volume.
Its economical 1.7-litre engine answers many of the criticisms aimed at small diesel units it has plenty of power, is flexible and, above all, it is quiet. A few details on the body and overall finish could be improved, however.
The big selling point of the C151.) is its price an unbelieveable (well almost) .:.4,165, which is up to E1,000 below that of major rivals. Exactly how long Citron can continue to undersell its competitors is a guess, along with the likely resale values of Visa vans in two to three years' time.
But whatever the outcome, operators and competing maiinfacturers will certainly be looking at the latest van from France with more than just a passing interest.