OPENING NEW DOORS
16th November 1985
Page 52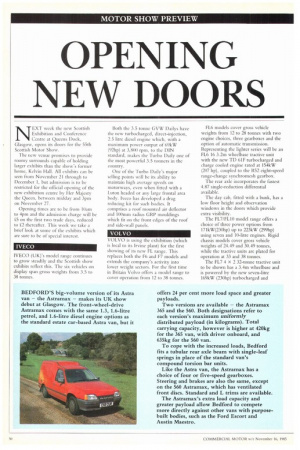 Page 53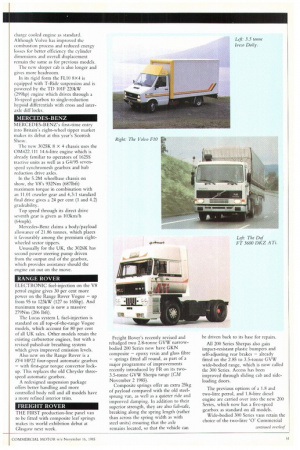 Page 54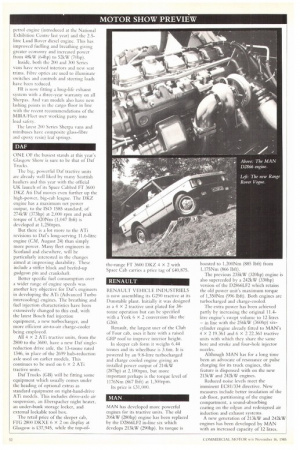 Page 52, 16th November 1985 —
OPENING NEW DOORS
Close
NEXT week the new Scottish Exhibition and Conference Centre at Queens Dock, Glasgow, opens its doors for the 55th Scottish Motor Show.
The new venue promises to provide roomy surrounds capable of holding larger exhibits than the show's former home, Kelvin Hall. All exhibits can be seen from November 21 through to December 1, but admission is to be restricted for the official opening of the new exhibition centre by Her Majesty the Queen. between midday and 3pm on November 27.
Opening times are to be from 10am to 4pm and the admission charge will be £5 on the first two trade days, reduced to 12 thereafter. This week we take a brief look at some of the exhibits which are sure to be of special interest.
IVECO (UK)'s model range continues to grow steadily and the Scottish show exhibits reflect this. The six vehicles on display span gross weights from 3.5 to 38 tonnes. Both the 3.5 tonne GVW Dailys have the new turbocharged, direct-injection, 2.5 litre diesel engine which, with a maximum power output of 69kW (92hp) at 3,800 rpm, to the DIN standard, makes the Turbo Daily one of the most powerful 3.5 tonners in the country.
One of the Turbo Daily's major selling points will be its ability to maintain high average speeds on motorways, even when fitted with a Luton headed or any large frontal area body. Iveco has developed a drag reducing kit for such bodies. It comprises a roof mounted air deflector and 100nim radius GRP mouldings which fit on the front edges of the roof and side-wall panels.
VOLVO is using the exhibition (which is local to its Irvine plant) for the first showing of its new FL range. This replaces both the F6 and F7 models and extends the company's activity into lower weight sectors. For the first time in Britain Volvo offers a model range to cover operation from 12 to 38 tonnes. FL6 models cover gross vehicle weights from 12 to 28 tonnes with two engine choices, three gearboxes and the option of automatic transmission. Representing the lighter series will be an FL6 16 3.2m wheelbase tractive unit with the new TD 61F turbocharged and charge cooled engine rated at 154kW (207 hp), coupled to the R52 eight-speed range-change synchromesh gearbox.
The rear axle incorporates the fastest 4.87 single-reduction differential available.
The day cab, fitted with a bunk, has a low floor height and observation windows in the doors which provide extra visibility.
The FL7/FL10 model range offers a choice of three power options from 17IkW(230hp) up to 223kW (299hp) using seven and 10-litre engines. Rigid chassis models cover gross vehicle weights of 24.49 and 30.49 tonnes, while the tractive units arc plated for operation at 33 and 38 tonnes.
The FL7 4 x 2 32-tonne tractive unit to be shown has a 3.4m wheelbase and is powered by the new seven-litre 169kW (230hp) turbocharged and
charge cooled engine as standard. Although Volvo has improved the combustion process and reduced energy losses for better efficiency the cylinder dimensions and overall displacement remain the same as for previous models,
The new sleeper cab is also longer and gives more headroom.
In its rigid form the FL10 8x4 is equipped with T-Ride suspension and is powered by the TD 101F 220kW (299hp) engine which drives through a 16-speed gearbox to single-reduction hvpoid differentials with cross and interaxle diff locks.
MERCEDES-BENZ MERCEDES-BENZ'S first-time entry into Britain's eight-wheel tipper market makes its debut at this year's Scottish Show.
The new 3025K 8 x 4 chassis uses the 0M422.111 14.6-litre engine which is already familiar to operators of 1625S tractive units as well as a G4/95 sevenspeed synchromesh gearbox and hub reduction drive axles.
In the 5.2M wheelbase chassis on show, the V8's 932Nm (6871b1t) maximum torque in combination with an 11.01 crawler gear and 4,3:1 standard final drive gives a 24 per cent (1 and 4.2) gradeability.
Top speed through its direct drive seventh gear is given as 103km/h (64mph).
Mercedes-Benz claims a body/payload allowance of 21.86 tonnes, which places it favourably among the premium eightwheeled sector tippers.
Unusually for the UK, the 3026K has second power steering pump driven from the output end of the gearbox, which provides assistance should the engine cut out on the move.
RANGE ROVER
ELECTRONIC fuel-injection on the V8 petrol engine gives 30 per cent more power on the Range Rover Vogue — up from 95 to 123kW (127 to 165hp). And maximum torque is now a massive 279Nm (206 lbft).
The Lucas system L fuel-injection is standard on all top-of-the-range Vogue models, which account for 80 per cent of all UK sales. Other models retain the existing carburettor engines, but with a revised pulsed-air breathing system which gives improved emission levels.
Also new on the Range Rover is a ZF4 HP22 four-speed automatic gearbox — with first-gear torque convertor lockup. This replaces the old Chrysler threespeed automatic gearbox.
A redesigned suspension package offers better handling and more controlled body roll and all models have a more refined interior trim.
FREIGHT ROVER
THE FIRST production-line panel van to be fitted with composite leaf springs makes its world exhibition debut at Glasgow next week. Freight Rover's recently revised and rebadged two 2.8-tonne GVW narrowbodied 200 Series now have GKN composite — epoxy resin and glass fibre — springs fitted all round, as part of a major programme of improvements recently introduced by FR on its two3.5-tonne GVW Sherpa range (CM November 2 1985).
Composite springs offer an extra 25kg of payload compared with the old steelsprung van, as well as a quieter ride and improved damping. In addition to their superior strength, they are also fail-safe, breaking along the spring length (rather than across the spring width as with steel units) ensuring that the axle remains located, so that the vehicle can be driven back to its base for repairs.
All 200 Series Sherpas also gain impact-resistant plastic bumpers and self-adjusting rear brakes — already fitted on the 2.85 to 3.5-tonne GVW wide-bodied range, which is now called the 300 Series. Access has been improved through sliding cab and sideloading doors.
The previous options of a 1.8 and two-litre petrol, and 1.8-litre diesel engine arc carried over into the new 200 Series, which now has a five-speed gearbox as standard on all models.
Wide-bodied 300 Series vans retain the choice of the two-litre '0' Commercial
petrol engine (introduced at the National Exhibition Centre last year) and the 2.5litre Land Rover diesel engine. This has improved fuelling and breathing giving greater economy and increased power from 48k W (64hp) to 52kW (70hp).
Inside, both the 200 and 300 Series vans have revised interiors and new seat trims. Fibre optics are used to illuminate switches and controls and steering loads have been reduced.
FR is now fitting a long-life exhaust system with a three-year warranty on all Sherpas. And van models also have new lashing points in the cargo floor in line with the recent recommendations of the MIRA/Fleet user working party into load safety.
The latest 200 Series Sherpa vans and minibuses have composite glass-fibre and epoxy resin) leaf springs.
DAF
ONE OF the busiest stands at this year's Glasgow Show is sure to be that of Daf Trucks.
The big. powerful Dal tractive units are already well liked by many Scottish hauliers and this year with the official UK launch of its Space Cabbed FT 3600 DKZ Ati Daf moves even further up the high-power, big-cab league. The DKZ engine has a maximum net power output, to the ISO 1585 standard, of 274kW (373hp) at 2,000 rpm and peak torque of 1,420Nm (1,047 IV) is developed at 1,250rpm.
But there is a lot more to the ATi revisions to Dal's long-serving 11.6-litre engine (CM, August 24) than simply more power. Many fleet engineers in Scotland and elsewhere, will be particularly interested in the changes aimed at improving durability. These include a stiffer block and beefed-up gudgeon pin and crankshaft.
Better specific fuel consumption over a wider range of engine speeds was another key objective for Dars engineers in developing the ATi (Advanced Turbo intercooling) engines. The breathing and fuel injection characteristics have been extensively changed to this end, with the latest Bosch fuel injection equiptnent, a new turbocharger, and more efficient air-to-air charge-cooler being employed.
All 4 x 2 ATi tractive units, from the 2800 to the 3600, have a new Daf singlereduction drive axle, the 13-tonne rated 1346, in place of the 2699 hub-reduction axle used on earlier models. This continues to be used on 6 x 2 ATi tractive units.
Daf Trucks (GB) will be fitting some equipment which usually comes under the heading of optional extras as standard equipment on right-hand-drive ATi models. This includes drive-axle air suspension, an Eberspacher night heater, an under-bunk storage locker, and external lockable tool box.
The retail price of the sleeper cab, FIG 2800 DKXE 6 X 2 on display at Glasgow is £37,945, while the top-of
the-range FT 3600 DKZ 4 x 2 with Space Cab carries a price tag of £40,875.
RENAULT RENAULT VEHICLE INDUSTRIELS is now assembling its G290 tractive at its Dunstable plant. Initially it was designed as a 4 X 2 tractive unit plated for 38comic operation but can be specified with a York 6 x 2 conversion like the G260.
Renault, the largest user of the Club of Four cab, uses it here with a raised GRP roof to improve interior height.
In sleeper cab form it weighs 6.44 tonnes and its wheelbase is 3.6m. It is powered by an 9.8-litre turbocharged and charge cooled engine giving an installed power output of 214kW (287hp) at 2,100rpm, but more important perhaps is the torque level of 1176Nm (867 lbft) at 1,300rpm.
Its price is £31,000.
MAN
MAN has developed more powerful engines for its tractive units. The old 206kW (280hp) engine has been replaced by the D2866LF2 in-line six which develops 213kW (290hp). Its torque is boosted to 1,200Nin (885 lbtt) from 1,175Nrn (866 lbft).
The previous 235kW (320hp) engine is also superceded by a 242kW (330hp) version of the D2866LF2 which retains the old power unit's maximum torque of 1,350Nm (996 lbft). Both engines are turbocharged and charge-cooled.
The extra power has been achieved partly by increasing the original 11.4litre engine's swept volume to 12 litres — in line with the 256kW (360hp) sixcylinder engine already fitted to MAN's 4 x 2 19.361 and 6 X 2 22.361 tractive units with which they share the same bore and stroke and four-hole injector nozzles.
Although MAN has for a long time been an advocate of resonance or pulse charging for its truck engines, this feature is dispensed with on the new 213kW and 242kW engines.
Reduced noise levels meet the imminent EC81/334 directive. New measures include better insulation of the cab floor, partitioning of the engine compartment, a sound-absorbing coating on the oilpan and redesigned air induction and exhaust systems.
A new generation of 213k'W and 242kW engines has been developed by MAN with an increased capacity of 12 litres.