BIRD'S-EYE VIEW
16th November 1985
Page 50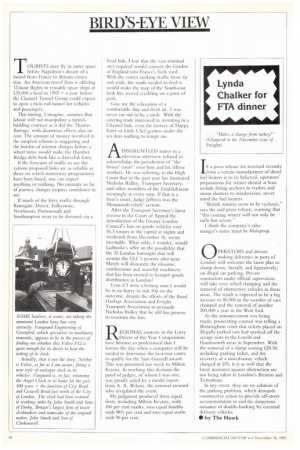 Page 50, 16th November 1985 —
BIRD'S-EYE VIEW
Close
TOURISTS may fly in outer space before Napoleon's dream of a tunnel from France to Britain comes true. An Arnercan travel firm is offering 12-hour flights in reusable space ships at £35,000 a head in 1992 — a year before the Channel Tunnel Group could expect to open a twin rail tunnel for vehicles and passengers.
This timing, I imagine, assumes that labour will not manipulate a tunnelbuilding contract as it did the Thames Barrage, with disastrous effects also on cost The amount of money involved in the simplest scheme is staggering and the burden of interest charges before a wheel turns would make the Humber Bridge debt look like a slate-club kitty.
lithe forecasts of traffic to use the various proposed links are as reliable as those on which motorway programmes have been based, one can expect anything or nothing. No estimate so far of journey charges inspires confidence in me.
If much of the ferry traffic through Ramsgate, Dover, Folkestone, Newhaven, Portsmouth and Southampton were to be diverted via a SOME hauliers, it seems, are taking the imminent London lorry ban very seriously. Vanguard Engineering of Greenford, which specialises in machinery removals, appears to be in the process of finding out whether this Volvo F12 is quiet enough for its driver to hear the ticking of its clock.
Actually, that is not the story. Neither is Volvo, as far as I am aware, fitting a new style of analogue clock in its vehicles. Vanguard is, in fact, returning the Angel Clock to its home for the past 100 years — the junction of City Road and Coswell Road just north of the City of London. The clock had been restored to working order by John Smith and Sons of Derby, Britain's largest firm of tower clockmakers and namesake of the original maker, John Smith and Son of Clerkenwell. fixed link, I fear that the vast terminal area required would convert the Garden of England into France's back yard. With the vortex sucking traffic from far and wide, the roads needed to feed it would make the map of the South-east look like scored crackling on a joint of pork.
Give me the relaxation of a comfortable ship and fresh air. I was never cut out to be a mole. With the catering trade interested in investing in a Channel link, even the fantasy of Happy Eater or Little Chef grottos under the sea does nothing to tempt me.
DISGRUNTLED miner in a
television interview refused to acknowledge the jurisdiction of "the bosses' court" over him and his fellow workers. He was referring to the High Court that in the past year has frustrated Nicholas Ridley, Transport Secretary, and other members of the Establishment seemingly at every turn. If that is a boss's court, Judge Jeffreys was the Monmouth rebels' saviour.
After the Transport Secretary's latest reverse in the Court of Appeal the introduction of the Greater London Council's ban on goods vehicles over 16.5 tonnes in the captial at nights and weekends from December 16, seems inevitable. What odds, I wonder, would Ladbroke's offer on the possibility that the 33 London boroughs that will assume the GLC's powers after next March will dismantle the irksome, cumbersome and wasteful machinery that has been erected to hamper goods distribution in London?
Even if I were a betting man I would be in no hurry to risk 50p on the outcome, despite the efforts of the Road Haulage Association and Freight Transport Association to persuade Nicholas Ridley that he still has powers to overturn the ban.
REGIONAL contests in the Lorry Driver of the Year Competition have become so professional that I foresee the day when a computer will be needed to determine the best-run centre to qualify for the Sam Gunnell award. This was presented last week to Milton Keynes. In reaching this decision the panel of judges, of whom I was one, was greatly aided by a model report from A. A. Wilson, the national steward who invigilated the event.
My judgment produced three equal Firsts, including Milton Keynes, with WO per cent marks, two equal fourths with 98½ per cent and two equal sixths with 96 per cent.
IF a press release we received recently from a certain manufacturer of diesel fuel beaters is to be believed, operators' preparations for winter should at least include fitting anchors to trailers arid storm shutters to windscreens, never
mind the fuel heaters. .
"British winters seem to be cyclonic," says the said press release, warning that "this coming winter will not only be early but severe."
I think the company's sales manger's name must be Malaprop.
0 PERATORS and drivers making deliveries in parts of London will welcome the latest plan to clamp down, literally and figuratively, on illegal car parking. Private contractors under official supervision will take over wheel clamping and the removal of obstructive vehicles in those areas. The result is expected to be a big increase to 80,000 in the number of cars clamped and the removal of another 200,0(X) a year in the West End.
As the announcement was being made, prosecuting counsal was telling a Birmingham court that tickets placed on illegally parked cars had sparked off the savage riots in the Lozells and I landsworth areas in September. With the removal of a clamp costing £29.50, including parking ticket, and the recovery of a towed-away vehicle charged at £55, it is as well that the latest measures against obstruction are not being taken in London's Brixton and Tottenham.
In any event, they are no solution of the parking problem, which demands constructive action to provide off-street accommodation to end the dangerous nuisance of double-banking by essential delivery vehicles.