wo-stage plan for 'scrap quotas'
16th November 1985
Page 5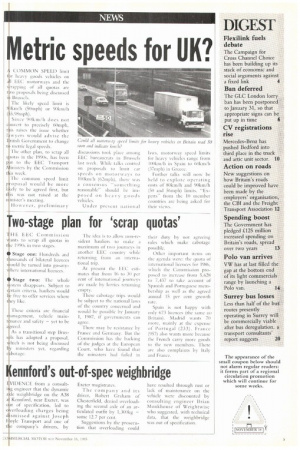 Page 5, 16th November 1985 —
wo-stage plan for 'scrap quotas'
Close
HE EEC Commission ants to scrap all quotas in t e 1990s in two stages.
Stage one: I lundreds and t ousands of bilateral licences 'mild be turned into go-anyN. 'here international licences.
Stage two: 'Me whole
• 'stem disappears. Subject to • ruin criteria, hauliers would • free to offer services where t ley like.
These criteria are financial t anagement, vehicle maint nance and safety — yet to be reed.
As a transitional step Bruss -Is has adopted a proposal. 'hid] is not being discussed ininisters yet, regarding bwage. The idea is to allow non-resident hauliers to make a maximum of two journeys in another EEC country while returning from an international trip.
At present the EEC estimates that from 16 to 30 per cent of international journeys are made by lorries returning empty.
These cabotage trips would be subject to the national laws of the country concerned and would be possible by January 1, 1987, if governments can agree.
There may be resistance by France and Germany. But the Commission has the backing of the judges at the European Court, who have found that the ministers h ad tinted in
their duty by not agreeing rules which make cabotage possible.
Other important Reins oii the agenda were: the quota of international licences for 1986. which the Commission proposed to increase from 5,628 to 7,437 to take account of Spanish and Portuguese membership as well as the agreed annual IS per cent growth rate.
Spain is not happy with only 673 licences (the same as. Britain). Madrid wants 70 more, mainly at the expense of Portugal (233). France (957) also wants more because the French carry more goods to the new members. There are also complaints by Italy and France.