Metric speeds for UK?
16th November 1985
Page 5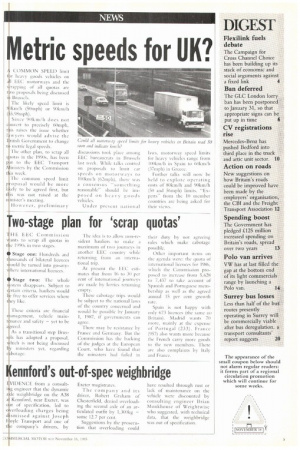 Page 5, 16th November 1985 —
Metric speeds for UK?
Close
COMMON SPEED hunt heavy goods vehicles on I EEC motorways and the Tapping of all quotas are o proposals being discussed Brussels.
The likely speed limit is 1km/h (5(1mph) or 9()1(mIli 5.98mph).
Since 90km/h does not nvert to precisely 60mph, is raises the issue whether wyers would advise the ritish Government to change metric legal speeds.
The other plan, to scrap all iotas in the 1990s, has been it to the EEC Transport misters by the Commission is week.
The common speed limit oposal would be more • ely to be agreed first, but is was not raised at the Mister's meeting. However, preliminary
Could all motorway speed soon and indicate km/h? discussions took place among EEC: bureaucrats in Brussels last week. While talks centred on proposals to liiiiit car speeds on motorway; to 100knilh (62mph). there was it C011tie0SUS 'sOuliLtIlilIg reasonableshould be imposed on heavy goods vehicles.
Under present national laws. motorway speed limits tnr heavy vehicles range from 100km/h in Spain to 60km/h (37mph) in Greece.
Further talks will now be held to explore operating costs of 80km/h and 90km/h (50 and 56mph) limits. -Expertsfrom die 10 member countries are being asked for their views.