THE FUTURE ON DISPLAY
16th November 1985
Page 45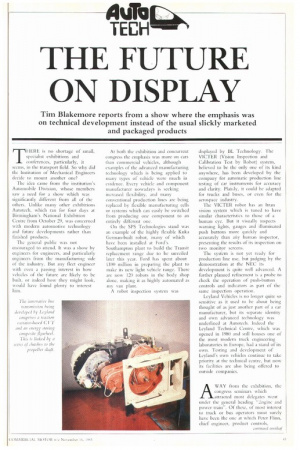 Page 46
Page 45, 16th November 1985 —
THE FUTURE ON DISPLAY
Close
Keywords :
Buses
,
Brakes
,
Regenerative Brake
,
Energy Storage
,
Flywheel
,
Continuously Variable Transmission
,
Leyland National
,
Automobile
,
Suspension
,
Leyland Trucks
,
Ashok Leyland
,
Technology / Internet
THERE is no shortage of small, specialist exhibitions and conferences, particularly, it seems, in the transport field. So why did the Institution of Mechanical Engineers decide to mount another one?
The idea came from the institution's Automobile Division, whose members saw a need for a show which was significantly different from all of the others. Unlike many other exhibitions Autotech, which ran for four days at Birmingham's National Exhibition Centre from October 29, was concerned with modern automotive technology and future developments rather than finished products.
The general public was not encouraged to attend. It was a show by engineers for engineers, and particularly engineers from the manufacturing side of the industry. But any fleet engineer with even a passing interest in how vehicles of the future are likely to be built, or indeed how they might look, would have found plenty to interest him. At both the exhibition and concurrent congress the emphasis was more on cars than commercial vehicles, although examples of the advanced man LI facturing technology which is being applied to many types of vehicle were much in evidence. Every vehicle and component manufacturer nowadays is seeking increased flexibility, and many conventional production lines are being replaced by flexible manufacturing cells or systems which can easily be switched from producing one component to an entirely different one.
On the SPS Technologies stand was an example of the highly flexible Kuka German-built robot, many of which have been installed at Ford's Southampton plant to build the Transit replacement range due to be unveiled later this year. Ford has spent about million in preparing the plant to make its new light vehicle range. There are now 120 robots in the body shop alone, making it as highly automated as any van plant.
A robot inspection system was displayed by BL Technology. The VICTER (Vision Inspection and Calibration Test by Robot) system, believed to be the only one of its kind anywhere, has been developed by the company for automatic production line testing of car instruments for accuracy and clarity. Plainly, it could he adapted for trucks and buses, or even for the aerospace industry.
The VICTER robot has an Itran vision system which is tuned to have similar characteristics to those of a human eye. But it visually inspects warning lights, gauges and illuminated push buttons more quickly and accurately than any human inspector, presenting the results of its inspection on two monitor screens.
The system is not yet ready for production line use, but judging by the demonstration at the NEC its development is quite well advanced. A further planned refinement is a probe to check the operation of push-hutton controls and indicators as part of the same inspection operatioil.
Leyland Vehicles is no longer quite so sensitive as it used to be about being thought of as just another part of a car manufacturer, but its separate identity and own advanced technology was underlined, at Autotech. Indeed the Leyland Technical Centre, which was opened in 1980 and still houses one of the most modern truck engineering laboratories in Europe, had a stand of its own. Testing inn' development of Leyland's own vehicles continue to take priority at the technical centre, but now its fiicilities are also being offered to outside companies.
AWAY from the exhibition, the congress seminars which attracted most delegates went under the general heading —;ingine and power train". Of these, of most interest RI truck or bus operators must surely have been the one at which Peter Flinn, chief engineer, product controls,
Leyland Vehicles, described his company's development work to date on a traction variator-based CVT (continuously variable transmission) coupled to a regenerative braking system (CM, August 31, 1985).
Leyland is certainly not alone in working along these lines, but now the signs arc that, with help from BP, it has made something of a breakthrough. BP's role was to develop the flywheel which is used to store energy in the Leyland regenerative braking system.
The breakthrough has come with the development of a flywheel made froni a non-metallic composite material which allows it to be much more compact than it would otherwise have been. This flywheel is capable of storing the energy that comes from decelerating a 16-tonne bus, a Leyland National, from 50km/h to rest and yet it is only a little more than 600mm in diameter and in depth. It spins at more than 16,(X)Orpm so the safety aspect was an important consideration during the system's development. A specially constructed rig at the National Engineering Laboratory at East Kilbride was used for developing the complete regenerative braking system and CVT, and particularly for tine tuning the complete system's microprocessor-based electronic control. This rig testing was completed last May.
User trials of Leyland Nationals fitted with the CVT and regenerative braking system have begun in the UK and mainland Europe, funded as part of the EEC's Energy Saying Demonstration Programme. According to Peter Flinn, the project, which started in 1979, is now "ready to move from the research to the production stage.
Two of the biggest stands at the Autotech exhibition appropriately were occupied by two of the UK's largest vehicle component manufacturing groups, AE and GKN, AE's exhibits ranged from its new lightweight, hollow steel anti-roll bar manufactured by The Tempered Steel Company of Sheffield, to the latest car cruise control system developed by Econocruise of Rugby. But it was AE's new disposable-cartridge centrifugal oil filter which garnered the most extravagant claims. "A world first" and "the world's finest oil filterwere two of the phrases used to describe the Sentry, which was developed by AE subsidiary, the Glacier Metal Company of Ilminster, Somerset. The unit is suitable for diesel engines of two to 15 litres capacity,
The Sentry is a by-pass filter which spins out engine oil contaminants down to a particle size of 0.1 microns. Mack Trucks of the USA has already begun to use it as original equipment.
WELLWORTHY of Lymington, another AE. subsidiary, also had some news for Autotech. Its heavy-duty squeeze-cast pistons, which promise improved durability and, particularly, resistance to cracking, have now gone into volume production and are being supplied to "one of the world's leading independent manufacturers of diesel engines.AE was not saying which one.
The news from the GKN group centred on its composite springs, now being fitted to Freight Rover Sherpas and soon to be used on heavier Mitsubishis (CM, November 9).
But two other GKN developments would have caught the eye of any fleet engineer who visited the NEC last week. One is AMLA (Automatic Mechanical Lash Adjuster), a clever but relatively simple means of providing automatic adjustment of an engine's valve train. AMLA is purely mechanical and so offers significant advantages compared with hydraulic tappets.
The second development was by GKN Axles and should interest brewers and other operators wanting to lower platform height, perhaps with frontwheel drive. Under development is an independent front-suspension system suitable for weights up to 6.5 tonnes. This is a twin wishbone suspension with air springs and dampers. The next Autotech is being planned for October 27 to 30, 1987.