EDITORIAL
16th November 1985
Page 4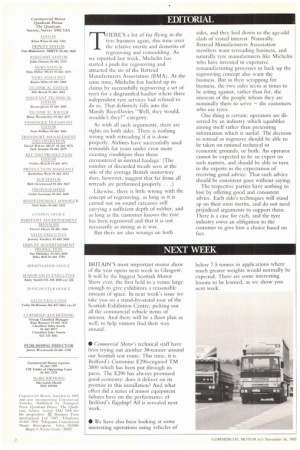 Page 4, 16th November 1985 —
EDITORIAL
Close
THERE'S a lot of fur flying in the tyre business again, this time over the relative merits and demerits of regrooving and remoulding. As we reported last week, Michelin has started a push for regrooving and attracted the ire of the Retread Manufacturers Association (RMA). At the same time, Michelin has backed up its claims by successfully regrooving a set of tyres for a disgruntled haulier where three independent tyre services had refused to do so. That definitely falls into the Mandy Rice-Davies "Well, they would, wouldn't they?" category.
As with all such arguments, there arc rights on both sides. There is nothing wrong with retreading if it is done properly. Airlines have successfully used remoulds for years under even more exacting conditions than those encountered in normal haulage. (The number of discarded treads seen at the side of the average British motorway does, however, suggest that far from all retreads arc performed properly . . .) Likewise, there is little wrong with the concept of regrooving, as long as it is carried out on sound carcasses still carrying a sufficient depth of rubber, and as long as the customer knows the tyre has been regrooved and that it is not necessarily as strong as it was.
But there arc also wrongs on both sides, and they boil down to the age-old clash of vested interest. Naturally, Retread Manufacturers Association members want retreading business, and naturally tyre manufacturers like Michelin who have invested in expensive remanufacturing processes to back up the regrooving concept also want the business. But in their scrapping for business, the two sides seem at times to be acting against, rather than for, the interests of the people whom they are nominally there to serve — the customers who use tyres.
One thing is certain: operators are illserved by an industry which squabbles among itself rather than presenting information which is useful. The decision to retread or regroove should be able to be taken on rational technical or economic grounds, or both. An operator cannot be expected to be an expert on such matters, and should be able to turn to the experts in the expectation of receiving good advice. That such advice should be consistent goes without saying.
The respective parties have nothing to lose by offering good and consistent advice. Each side's techniques will stand up on their own merits, and do not need prejudiced arguments to support them. There is a case for each, and the tyre industry owes an obligation to the customer to give him a choice based on fact.