A LTHOUGH Cummins has clearly demonstrated that fuel consumption need not suffer when an engine is made to work at
16th November 1985
Page 36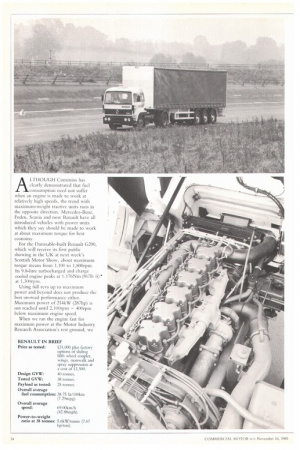 Page 37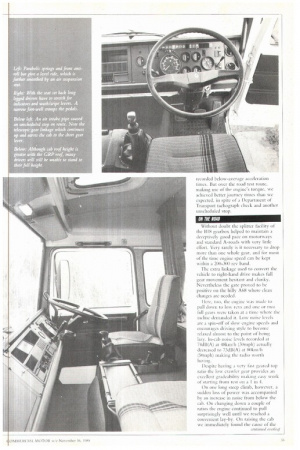 Page 38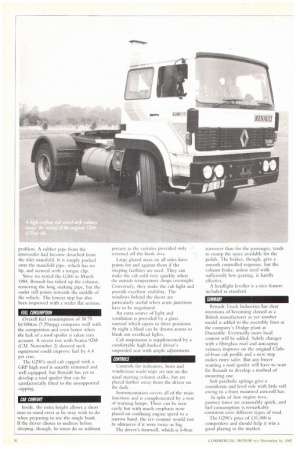 Page 36, 16th November 1985 —
A LTHOUGH Cummins has clearly demonstrated that fuel consumption need not suffer when an engine is made to work at
Close
relatively high speeds, the trend with .. maximum-weight tractive units runs in the opposite direction. Mercedes-Benz, Foden, Scania and now Renault have all introduced vehicles with power units which they say should be made to work at about maximum torque for best economy.
For the Dunstable-built Renault G290, which will receive its first public showing in the UK at next week's Scottish Motor Show, about maximum
torque means from 1,100 to 1,800rpm. likksiv,,,.: Its 9.8-litre turbocharged and charge cooled engine peaks at 1.176Nm (8671b Ii)' at 1,30(kpm.
power and beyond does not produce the
best on-road performance either. ""? / f Maximum power of 214kW (287hp) is
power and beyond does not produce the
it Using full revs up to maximm /u
not reached until 2,100rpm — 400rpm below maximum engine speed.
When we ran the engine fast for maximum power at the Motor Industry Research Association's test ground, we
RENAULT IN BRIEF Price as tested: 1:31,000 plus factory options of sliding fifth wheel coupler. wings, manwalk and spray suppression at a cost of £ Design G'VW: 40 tonnes, Tested GVW: 38 tonnes.
Payload as tested: 25 tonnes. Overall average fuel consumption: 38.75 lit/100km
recorded below-average acceleration times. But over the road test route, making use of the engine's torque, we achieved better journey times than we expected, in spite of a Department of Transport tachograph check and another unscheduled stop.
ON THE ROAD
Without doubt the splitter facility of the 1318 gearbox helped to maintain a deceptively good pace on motorways and standard A-roads with very little effort. Very rarely is it necessary to drop more than one whole gear, and for most of the time engine speed can be kept within a 200-300 rev band.
The extra linkage used to convert the vehicle to right-hand drive makes full gear movement hesitant and clunk y. Nevertheless the gate proved to be positive on the hilly A68 where clean changes are needed.
I fere, too, the engine was made to pull down to low revs and one or two full gears were taken at a time where the incline demanded it. Low noise levels are a spin-off of slow engine speeds and encourages driving style to become relaxed almost to the point of being lazy. In-cab noise levels recorded at 74d13(A) at 48km/h (3(1inph) -actually decreased to 73dB(A) at tillkm/li (Si 1mph) making the radio worth having.
Despite having a very fast geared top ratio the low crawler gear provides an excellent gradeability making easy work of starring tioni rest on a I in 4.
On one long steep climb, however, a sudden loss of power was accompanied by an increase in noise from below the cab. On changing down a couple of ratios the engine continued to pull surprisingly well until we reached a convenient lay-by. On raising the cab we immediately found the cause of the
problem. A rubber pipe from the intercooler had become detached from the inlet manifold. It is simply pushed onto the manifold pipe, which has no lip, and secured with a torque clip.
Since we tested the G260 in March 1984, Renault has tidied up the exhaust, removing the long snaking pipe, but the outlet still points towards the middle of the vehicle. The lowest step has also been improved with a.wider flat section.
FL/EL CONSUMPTION
Overall fuel consumption of 38.75 lit/100km (7.29mpg) compares well with the competition and even better when the lack of a roof spoiler is taken into account. -A recent test with Scania 92M (CM, November 2) showed such equipment could improve fuel by 4.4 per cent.
The G290's steel cab capped with a GRP high roof is smartly trimmed and well equipped, but Renault has yet to develop a roof spoiler that can be satisfactorially fitted to the unsupported capping.
CAB COMFORT Inside, the extra height allows a short man to stand erect as he may wish to do when preparing to use the single bunk. If the driver chases to undress before sleeping, though, he must do so without privacy as the curtains provided only screened off the bunk area.
Large glazed areas on all sides have points for and against them if the sleeping facilities arc used. They can make the cab cold very quickly when the outside temperature drops overnight. Conversely, they make the cab light and provide excellent visibility. The windows behind the doors are particularly useful when acute junctions have to be negotiated.
An extra source of light and ventilation is provided by a glass sunroof which opens to three positions. At night a blind can be drawn across to blank out overhead lights.
Cab suspension is supplemented by a comfortable high backed driver's suspended seat with ample adjustment.
COA7ROTS Controls for indicators, horn and windscreen wash/wipe are not on the usual steering column stalks, but arc placed further away from the driver on the dash.
Instrumentation covers all of the main functions and is complemented by a row of warning lamps. These can be seen easily but with much emphasis now placed on confining engine speed to a narrow hand, the rev counter would not be obtrusive if it were twice as big.
The driver's footwell, which is 5-8cm narrower than for the passenger, tends to cramp the space available for the pedals. The brakes, though, give a smooth controlled response, but the exhaust brake, unless used with sufficiently low gearing, is hardly effective.
A headlight leveller is a nice feature included as standard.
SUMMARY
Renault Truck Industries has clear intentions of becoming classed as a. British manufacturer as yet another model. is added to the assembly lines at the company's Dodge plant at Dunstable. Eventually more local content will be added. Subtle changes with a fibreglass roof and anti-spray valances improve on the original Clubof-Four cab-profile and a new step makes entry safer. But any buyer wanting a roof spoiler will have to wait for Renault to develop a method of mounting one.
Soft parabolic springs give a considerate and level ride with little roll owing to a front mounted anti-roll bar.
In spite of low engine revs, journey times are reasonably quick, and fuel consumption is remarkably consistent over different types of road.
The G290's price of 01,000 is competitive and should help it win a good placing in the market.