THIN ARGUMENT
16th November 1985
Page 24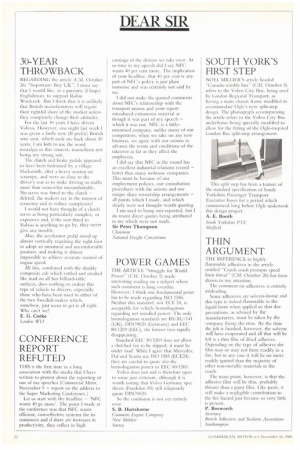 Page 24, 16th November 1985 —
THIN ARGUMENT
Close
THE REFERENCE to highly flammable adhesives in the article entitled "Coach crash prompts speed limit threat" (CM, October 26) has been drawn to my attention.
The comment on adhesives is entirely misleading.
Some adhesives are solvent-borne and this type is indeed flammable in the liquid form when applied so that due precautions, as advised by the manufacturers, must be taken by the company fixing the trim. By the time the job is finished, however, the solvent will have evaporated and all that will be left is a thin film of dried adhesive. Depending on the type of adhesive the film may or may not burn readily in a fire, but in any case it will be no more readily ignited than the majority of other non-metallic materials in the coach.
The main point, however, is that the adhesive film will be thin, probably thinner than a paint film. Like paint, it will make a negligible contribution to the fire hazard just because so very little is present.
P. Bosworth Secretary British Adhesives and Sealants Association Southampton