DEAR SIR
16th November 1985
Page 24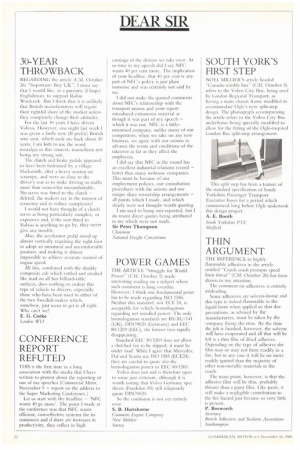 Page 24, 16th November 1985 —
DEAR SIR
Close
30-YEAR THROWBACK
REGARDING the article (CM, October 26) "Important: Buy UK-, I must say that I would like, as a patriotic (I hope) Englishman, to support Robin Wooicock. But I think that it is unlikely that British manufacturers will regain their rightful share of the market unless they completely change their attitudes.
For the last 10 years 1 have driven Volvos. However, one night last week I was given a fairly new (13 prefix) British artic unit, which took me back about 30 years, I am loth to use the word nostalgia in this context, masochisin not being my strong suit.
The clutch and brake pedals appeared to have been fashioned by a village blacksmith, after a heavy session on scrumpy, and were so close to the driver's seat as to make driving in traffic more than somewhat uncomfortable. No servo was fitted to the clutch — deleted, the makers say in the interest of economy and to reduce complexity!
1 would not have thought of a clutch servo as being particularly complex, or expensive and, if the sort fitted to Volvos is anything to go by, they never give any trouble.
Also, the accelerator pedal stood up almost vertically requiring the right foot to adopt an unnatural and uncomfortable position, and making is almost impossible to achieve accurate control of engine speed.
All this, combined with the shoddy composite cab which rattled and creaked like mad on all but billiard-table surfaces, does nothing to endear this type of vehicle to drivers, expecially those who have been used to either of the two Swedish makes which, somehow, just seem to get it all right. Why can't we?
E. G. Corke London W1_3