CONFERENCE REPORT REFUTED
16th November 1985
Page 24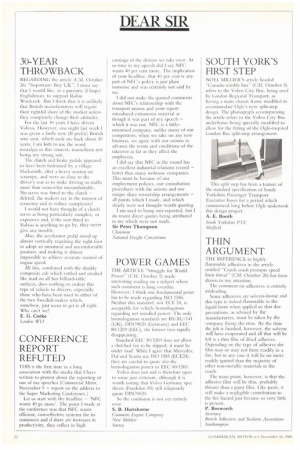 Page 24, 16th November 1985 —
CONFERENCE REPORT REFUTED
Close
THIS is the first time in a long association with the media that I have written to protest about the reporting of one of my speeches (Commercial Motor, November 9 — report on the address to the Super Marketing Conference.) Let us start with the headline — 'NFC wants 40 pc more'. The point I made at the conference was that NEC wants efficient, cost-effective systems for its customers and if there are increases in productivity, they reflect in high
earnings of. the drivers we take over. At oio time in my speech did I say NEC wants 40 per cent more. The implication of your headline, that 40 per cent is any part of I's/I-V.'s policy is just plain nonsense and was certainly not said by me.
did not make the quoted comments about NIFC's relationship with the transport unions and your report introduced extraneous material as though it was part of my speech — which it was not. NFC is a fullyunionised company, unlike many of our competitors; when we take on any new business, we agree with our unions in advance the terms and conditions of the takeover as far as they affect the employees.
I did say that NEC in the round has an excellent industrial relations record — better than many in-house companies. This must be because of our employment policies, our consultation procedures with the unions and our unique share ownership arrangements — all points which I made, and which clearly were not thought worth quoting.
1 am used to being mis-reported, but I do resent direct quotes being attributed to me which were not made.
Sir Peter Thompson Chairman National Freight Consortium