Only 45pc of Surrey routes are viable
16th November 1985
Page 22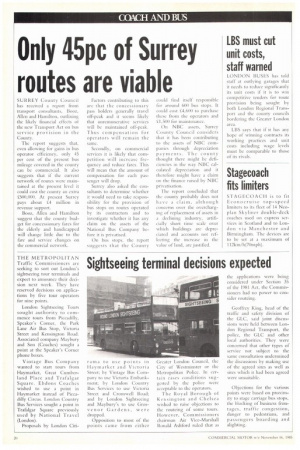 Page 22, 16th November 1985 —
Only 45pc of Surrey routes are viable
Close
SURREY County Council has received a report from transport consultants, Booz. Allen and Hamilton, outlining the likely financial effixts of the new Transport Act on bus service provision in the County.
The report suggests that, even allowing for gains in bus operator efficiency, only 45 per cent of the present bus mileage covered in the county can be commercial. It also suggests that if the current network of routes were maintained at the present level it could cost the county an extra 12500,000. At present Surrey pays about 124 million in revenue support.
Booz, Allen and Hamilton suggest that the county budget for concessionary fares for the elderly and handicapped will change little due to the fare and service changes on the commercial network. Factors contributing to this are that the concessionary pass holders generally travel off-peak and it seems likely that unremunerative services will be maintained off-peak. Thus compensation for operators will remain the Same.
Secondly, on commercial services it is likely that competition will increase frequency and reduce fares. This will mean that the amount of compensation for each passenger will drop.
Surrey also asked the consultants to determine whether it would need to take responsibility for the provision of bus stops on routes operated by its contractors and to investigate whether it has any claim on the assets of the National Bus Company before it is privatised.
On bus stops, the report suggests that the County could find itself responsible for around 600 bus stops. It could cost 4,600 to purchase these from the operators and 1:1,500 for maintenance.
On NBC assets, Surrey County Council considers that it has been contributing to the assets of NBC companies through depreciation payments. The county thought there might be deficiencies in the way NBC calculated depreciation and it therefore might have a claim on the finance raised by NBC privatisation.
The report concluded that the county probably does not have a claim, although concerns over the overcharging of replacement of assets in a declining industry, artificially short time scale over which buildings are depreciated and accounts not reflecting the increase in the value of land, are justified.