'Assault' firing upheld
16th November 1985
Page 21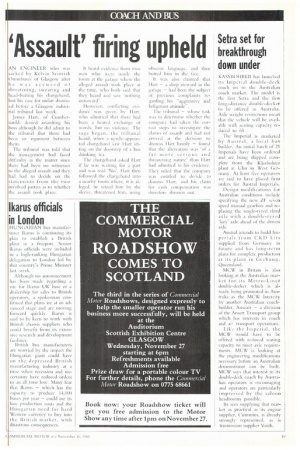 Page 21, 16th November 1985 —
'Assault' firing upheld
Close
AN ENGINEER who was sacked by Kelvin Scottish Omnibuses of Glasgow after he was accused of threatening, swearing and head-butting his chargehand, lost his case tbr unfair dismissal before a Glasgow industrial tribunal last week.
James Hart, of Cumbernauld, denied assaulting his boss although he did admit to the tribunal that there had been an argument between them.
The tribunal was told that the management had faced difficulty in the matter since there had been no witnesses to the alleged assault and they had had to decide on the statements from the two involved parties as to whether the assault took place. Jr heard evidence from two men who Were inside the room at the garage where the alleged assault took place at the rime, who both said that they heard and saw 'nothing untoward'.
However, conflicting evidence was given by Hart. who admitted that there had been a heated exchange ot words, but no violence. The saga began, the tribunal heard, when 3 newly-appointed chargehand saw Hart sitting on the doorstep of a bus drinking tea.
The chargehand asked Hart if he was waiting for a part and was told 'No'. Hart then followed the chargehand into a nearby room where, it is alleged, he seized him by the sleeve, threatened him, using obscene language, and then butted him in the face.
It was also claimed that Hart — a shop steward in the garage — had been the subject of previous complaints regarding his "aggressive and beligerant attitude-.
The tribunal — whose task was to determine whether the company had taken the correct steps to investigate the claims of assault and had not iirriyed at the decision to dismiss I lart hastily — found that the altercation was 'of a tar more serious and threatening nature' than Harr had admitted in his evidence. They ruled that the company WAS entitled to decide to dismiss !fart, and his claim for cash cconpensation was therefore thrown our.